Farm-to-Table Restaurants
5 Reasons to Love Farm-to-Table Dining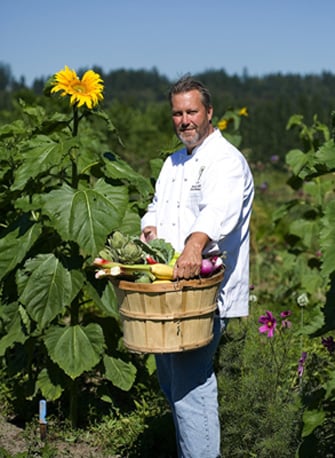 If you're a huge fan of farmers markets and you love the experience of dining out, it's time to check out a farm-to-table restaurant. These eateries are associated with the local food movement, a social campaign concerned with connecting people to what they eat and, more importantly, the farmers who grow it. Farm-to-table chefs seek out the very best ingredients from the best local farmers and dream up gorgeous recipes on the fly, before they grace your plate with all of that goodness. Sound like this is up your alley? Here are five reasons to try the farm-to-table experience.
It's local and sustainable. Everything on the menu at a farm-to-table restaurant will be locally sourced when possible. Instead of cooking for a recipe, these restaurants cook for the ingredients. Much like the practices of a CSA box, you have to be creative with what you're working with. Farm-to-table restaurants are up for the task.
It supports a community. Farm-to-table spots strive to connect the customer to the source of the food, a practice that's unheard of in the majority of restaurants worldwide. Less than one percent of the population in the US is made up farmers. Restaurants with locally sourced food gives these farmers a chance to create a quality product and thrive in the local economy. Instead of falling victim to conventional farming methods that go against ancient tradition, the people who are creating your food are treated with dignity and respect. And all that love pours out onto the plate.
It provides inspiration in your home kitchen. One of the most amazing things about eating in a farm-to-table restaurant is that you see ingredients that you may never have considered tasting, or using, before. You can pick up the same produce from your local farmers market and re-create a dish at home with the same ingredients. Or you can get creative and think up new ways to use what's in season.
It's an adventure. You never know what you're going to get on a given day. With many farm-to-table restaurants, the menu changes weekly, or even daily. Farmers harvest depending on what looked perfectly ripe on a specific day, not for whatever a big company needs. The mantra of many of these farmers? Grow for flavor.
It tastes better. Really. It's true. You can't imagine the decadent flavor until you've tasted freshly picked produce straight from the farm. Your taste buds will sing your praises! At these restaurants, the chefs don't need to cover up or mask anything on the plate. The ingredients speak volumes for themselves.
Have you ever eaten at a farm-to-table restaurant? What was your experience like?
Source: Flickr User healthmankirkland