Fast Braised Chicken Recipe
Fast & Easy Dinner: Hearty Braised Chicken Legs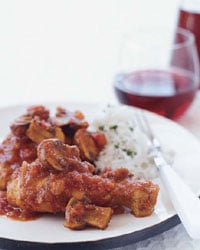 Although it may seem impossible or just simply ironic, this quick braised chicken comes together in under half an hour. Traditionally, for a dish to be considered a braise, it must be browned and then slow-cooked for a long period of time.
However, it's 2010, and if you want to braise flavorful chicken legs in a tomato, mushroom, and onion sauce for a mere 15 minutes, go right ahead! The recipe serves the saucy chicken over white rice, but feel free to pair with brown rice, mashed potatoes, or noodles. Learn the method when you
.


Ingredients
3 tablespoons vegetable oil
4 whole chicken legs, cut into thighs and drumsticks (2 pounds)
Kosher salt and freshly ground pepper
3/4 pound white mushrooms, quartered
3 garlic cloves
1 medium onion, quartered
1/2 cup cilantro leaves
1 cup tomato sauce
white rice, for serving
Directions
In a very large skillet, heat the vegetable oil. Season the chicken with salt and pepper and add to the skillet, skin side down. Cook over high heat, turning once, until browned, about 8 minutes. Transfer the chicken to a plate and pour off all but 3 tablespoons of the fat.
Add the mushrooms to the skillet and cook them over moderate heat, undisturbed, until they begin to brown on the bottom, about 2 minutes.
Meanwhile, in a food processor, puree the garlic cloves with the onion and cilantro leaves. Add the garlic and onion puree to the mushrooms and cook over moderate heat until very fragrant, about 1 minute.
Stir in the tomato sauce. Return the chicken legs to the skillet and bring to a simmer. Cover and simmer the sauce until the chicken is cooked through, about 15 minutes. Season the braised chicken legs with salt and pepper, transfer them to plates and serve with the sauce and white rice.
Serves 4.
Information
Category

Poultry, Main Dishes

Cuisine

North American