Fast & Easy 15-Minute Recipe For Bistro Egg Sandwiches
Ready in a Flash: Craveworthy French Bistro Sandwiches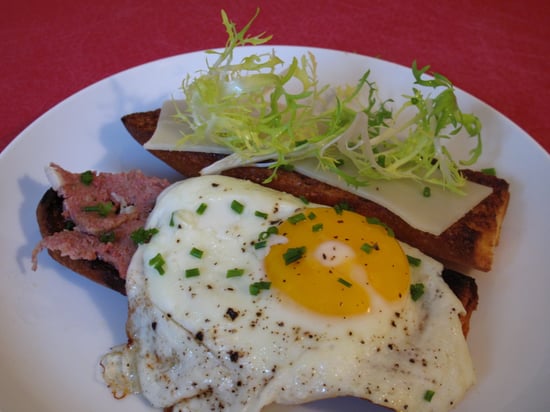 When PartySugar wrote about heading straight to the store after a Barefoot Contessa episode, I couldn't help but laugh and think of a recent instance when the same thing happened to me. Sometimes, all it takes is a momentary glance at a picture, and I develop a sudden, pressing need for a particular dish.
Said craving occurred most recently when I was flipping through an old magazine, and happened upon a 15-minute recipe for oven-toasted egg, pâté, and gruyère sandwiches. No more than 16 minutes later, it seemed, I was enjoying the crunch of a broiled baguette melded with the earthiness of Marcel et Henri pâté and a runny fried egg. Currently lusting after the same? Then get the recipe when you keep reading.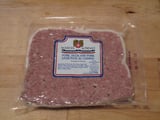 Ingredients
6 tablespoons unsalted butter, at room temperature
1 to 2 teaspoons dijon mustard
1 to 2 teaspoons anchovy paste
1 baguette, cut into 4 pieces, each halved lengthwise
4 large eggs
Kosher salt and freshly ground pepper
1/4 pound country pate or ham, cut into 4 slices
2 ounces gruyere or comte cheese, thinly sliced
1 cup frisee or other greens
Finely sliced chives, for garnish
Directions
Preheat the broiler to high. Mix 4 tablespoons butter with the mustard and anchovy paste in a small bowl until smooth.
Spread the anchovy butter on the cut sides of the bread; place buttered-side up on a baking sheet and broil until toasted, 1 to 2 minutes. Set aside.
Melt the remaining 2 tablespoons butter in a large skillet over medium-high heat. Crack in the eggs; season with salt and pepper and let cook until the yolks just begin to firm up and the edges are slightly crisp, about 3 minutes.
Assemble the sandwiches: Place 2 bread halves on each of 4 plates; top with a slice of pate, an egg, some cheese, greens and chives.
Makes 4 sandwiches.
Information
Category

Main Dishes, Sandwiches

Cuisine

French