Fast, Easy, Affordable Weeknight Meal: Chicken Sausages With Slaw Recipe
Monday's Leftovers: Chicken Sausages With Cabbage Slaw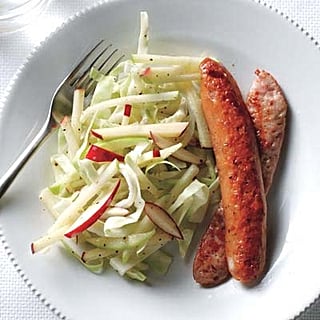 After last night's rustic Italian-influenced bean stew, switch gears and serve your leftover chicken sausage with a light, bright cabbage and apple slaw. Unlike mayonnaise-based or even Asian-themed coleslaws, this one combines a bit of cider vinegar (for tang), buttermilk (for creaminess), and apples (for texture) to produce a sweet-tart, crunchy salad that foils the richness of a pan-fried sausage. For the recipe, read on.

Chicken Sausages with Cabbage-Apple Slaw
Ingredients
3/4 pound green cabbage, thinly sliced (3 cups)
2 apples, such as granny smith and mcintosh, cut into matchsticks
1/4 cup cider vinegar
1/4 cup buttermilk
4 teaspoons grainy mustard
2 teaspoons sugar
Salt and pepper
1 tablespoon extra-virgin olive oil
4 fully cooked chicken sausage links (about 9 ounces), halved lengthwise
Directions
In a bowl, combine the cabbage and apples. In another bowl, whisk together the vinegar, buttermilk, mustard and sugar; season with salt and pepper. Toss with the cabbage.
In a skillet, heat the olive oil over medium-high heat. Prick the skin side of the sausages with a fork, add to the skillet and cook, turning once, until browned, about 5 minutes. Serve with the cabbage-apple slaw.
Serves 4.
Information
Category

Poultry, Main Dishes

Cuisine

German