Fast and Easy Bacon and Egg Soup Recipe
Monday's Leftovers: Bacon and Egg Soup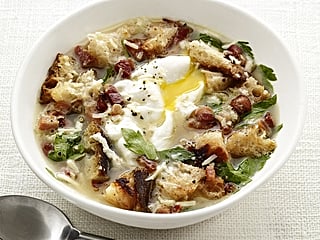 End your Monday — the toughest day of the week — with a bang, not a whimper. For tonight's meal, make the most of leftovers by incorporating the robust flavors of bacon, parmesan, and eggs into a twist on breakfast for dinner in a hearty bread soup. Here, bacon fat, parmesan rinds, and familiar garlic-and-herb flavors come together quickly in a soul-satisfying brodo.
It's topped off with crisped cured pork, crunchy homemade croutons, and a coddled egg. What could be more soul-satisfying? Make it tonight when you read more.
Ingredients
1/2 pound slab or thick-cut bacon, cut into 1/4-inch cubes
4 slices rustic Italian bread, cut into 1/2-inch cubes
2 tablespoons extra-virgin olive oil
Kosher salt and freshly ground pepper
2 cloves garlic, smashed
3 cups low-sodium chicken broth
1 1/4 cups grated parmesan cheese, plus 1 small piece rind
4 tablespoons torn fresh parsley
4 large eggs
Directions
Preheat the oven to 375. Cook the bacon in a medium pot over medium heat until crisp, about 7 minutes. Transfer to a paper-towel-lined plate with a slotted spoon, then discard all but 2 tablespoons drippings from the pot. While the bacon cooks, toss the bread cubes with the olive oil on a baking sheet and season with salt and pepper. Bake until golden and crisp, about 8 minutes.
Add the garlic to the bacon drippings and cook until slightly golden, 1 to 2 minutes. Add the broth, 1 1/2 cups water, the parmesan rind and 2 tablespoons parsley; season with salt and pepper. Cover and bring to a boil, then reduce to a simmer and cook 10 minutes.
Adjust the heat so the broth is barely boiling. One at a time, crack each egg into a small bowl and gently slip into the broth. Poach until just set, about 2 minutes. Transfer the eggs with a slotted spoon to individual soup bowls. Stir 1 cup parmesan and the remaining 2 tablespoons parsley into the broth and season with salt and pepper. Ladle the broth into the bowls and top with the croutons, bacon and the remaining 1/4 cup parmesan.
Serves 4.
Per serving: Calories 555; Fat 40 g (Saturated 15 g); Cholesterol 275 mg; Sodium 1,374 mg; Carbohydrate 12 g; Fiber 1 g; Protein 29 g
Information
Category

Soups/Stews

Cuisine

North American