Fast and Easy Beef and Potato Burritos Recipe
Monday's Leftovers: Beef and Potato Burritos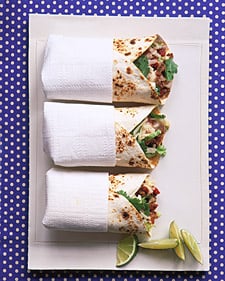 After a hectic start to the week, a late night taqueria run might sound terribly tempting, but avoid the caloric pitfalls of eating out by making your own version of a taqueria special at home: beef and potato burritos.
Build a healthier burrito, starting with last night's 90-percent lean ground beef and aromatics such as onion and jalapeño for heat. Save yourself time and effort by browning the beef, reducing the tomatoes, and heating the tortillas all in the same pan. You'll be surprised by how little effort this Mexican meal takes. Continue reading for the recipe.


Ingredients
1 large baking potato
2 tablespoons vegetable oil, such as safflower
3/4 pound ground beef
1 onion, chopped
1 jalapeno chile, finely chopped
1 can (14 ounces) chopped tomatoes with juice
1 1/2 teaspoons ground cumin
2 teaspoons paprika
Coarse salt
4 flour tortillas (10-inch)
1/4 cup sour cream
1/2 head iceberg lettuce, shredded
1/4 cup grated Monterey Jack
1/4 cup fresh cilantro (optional)
1 lime, plus wedges for garnish
Directions
Peel potatoes; cut into 1/2-inch dice. In a large saucepan, heat oil over medium heat. Add potato; cook, stirring occasionally, until golden brown, about 6 minutes.
Add beef, onion, and jalapeno; cook, breaking up meat with a spoon, until beef is thoroughly browned, about 4 minutes. Add tomatoes and juice, cumin, paprika, and 1 teaspoon salt; cook until liquid has evaporated, about 6 minutes.
Heat tortillas, one at a time, in a dry skillet over medium-high heat, turning once, until lightly browned, about 10 seconds.
Leaving space on bottom and sides, layer tortillas with sour cream, lettuce, beef mixture, cheese, and cilantro, if using; squeeze lime juice on top. Fold bottom upward, covering filling by 2 inches. Fold each side to overlap, leaving the top end open. Serve garnished with lime wedges.
Serves 4.
Information
Category

Main Dishes, Beef

Cuisine

Mexican