Fast & Easy Dinner: 20-Minute Peking Duck
Fast & Easy Dinner: 20-Minute Peking Duck Normally Peking duck takes over 24 hours to make, however this dish — which is inspired by the ingredients used in the traditional Chinese recipe — comes together in twenty short minutes. Duck breasts are used instead of a whole duck, making for a quick cook time. The fragrant, syrup-like sauce is a blend of fresh orange juice, sesame oil, and Sriracha. To make this exciting dish — from our friends at MyRecipes.com — tonight,
.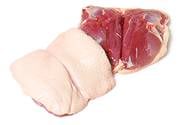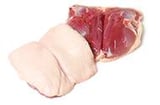 Ingredients
2 teaspoons dark sesame oil
2 (8-ounce) packages boneless duck breast halves, thawed and skinned
1/3 cup hoisin sauce
1/2 teaspoon grated orange rind
2 tablespoons orange juice
2 teaspoons Sriracha (hot chile sauce, such as Huy Fong)
4 (6-inch) flour tortillas
1/2 cucumber, peeled, halved lengthwise, seeded, and cut lengthwise into 8 strips
2 green onion tops, cut into thin strips
2 teaspoons sesame seeds
Get more recipes at MyRecipes.com
Directions
Heat oil in a large nonstick skillet over medium-high heat. Add duck to pan; cook 2 minutes on each side.
Reduce heat to medium; cover and cook an additional 3 minutes on each side or until done. Cut duck diagonally across grain into thin slices.
Combine hoisin, orange rind, orange juice, and Sriracha. Heat tortillas according to package directions. Spread about 2 tablespoons hoisin mixture down center of each tortilla.
Top each tortilla with 1/4 of duck, 2 cucumber strips, 1/4 of onions, and 1/2 teaspoon sesame seeds; roll up.
Serves 4 (serving size: 1 filled tortilla).
Nutritional Information: CALORIES 331(29% from fat); FAT 10.8g (sat 2.6g,mono 3.9g,poly 2.6g); PROTEIN 26.6g; CHOLESTEROL 88mg; CALCIUM 36mg; SODIUM 595mg; FIBER 2.4g; IRON 6.7mg; CARBOHYDRATE 30.3g
Like the recipe above? Try out some of these other ones:
— Dinner Tonight Recipes in 45-Minutes or Less
— Quick and Easy Meal Ideas
— All About Poultry from Cooking Light
— Get More Chinese Recipes
Information
Category

Poultry, Main Dishes

Cuisine

Chinese