Fast & Easy Dinner: Barley-Vegetable Ragout
Fast & Easy Dinner: Barley-Vegetable Ragout Impress the vegetarians in your life by taking the time to make this flavorful, hearty meal. Although it simmers for only about 45 minutes, the final dish has a depth and richness equal to something slow-cooked. The ingredient list includes mushrooms, cauliflower, onion, tomatoes, and bell peppers, but feel free to use the vegetables that your family enjoys eating.
To look at the recipe that would be delicious served with a chunk of crusty bread and a glass of red wine,
.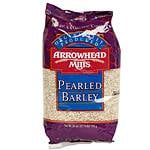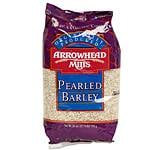 Ingredients
2 1/4 cups "chicken" broth or low-sodium vegetable broth
3/4 cup uncooked pearl barley, rinsed
2 Tbs. olive oil
1 10-oz. pkg. cremini mushrooms, halved
1 small head cauliflower, chopped (about 4 cups)
1 large white onion, cut into thin strips (about 1 1/2 cups)
1 15.5-oz. can diced tomatoes with mild green chilies, undrained
2 small orange bell peppers, sliced (about 2 cups)
1 cup fresh basil leaves, chopped, plus a few sprigs for garnish
1/4 cup grated soy Parmesan or Romano cheese
Directions
Bring broth to a boil in large pot. Add barley, reduce heat to low, cover and cook 30 minutes, or until broth is absorbed and barley is tender. Transfer to mixing bowl.
Heat 1 Tbs. oil in same pot over medium-high heat. Add mushrooms, and sauté 5 minutes, or until browned; add to barley. Add remaining 1 Tbs. oil to pot, and sauté cauliflower and onion 8 minutes, stirring frequently.
Add tomatoes, reduce heat to medium-low, cover and simmer 8 minutes. Stir in peppers; cover, and simmer 5 minutes more, or until tender.
Stir in barley-mushroom mixture, chopped basil and soy cheese. Season to taste with salt and pepper. Cook 1 minute more, or until heated through. Serve garnished with basil sprigs.
Serves 6.
Information
Category

Grains , Main Dishes