Fast & Easy Dinner: Beef Stroganoff
Fast & Easy Dinner: Beef Stroganoff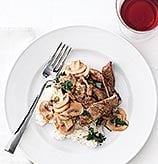 I know you had to work all day and are tired and are looking for a dinner that is quick, easy, and healthy. Well look no further than my beef stroganoff. Think beef stroganoff is a slow cooked meal that takes several hours to make? Think again. Mine is quick: ready in the amount of time it takes to cook rice (20 minutes), easy: minimal chopping, especially if you purchase pre sliced mushrooms, and healthy: it has one starch, one meat, and one vegetable. So grab a pen and pad and make a grocery list. Thursday night's special is hearty, creamy beef stroganoff. For the recipe,

Beef Stroganoff
From Real Simple magazine
2 tablespoons olive oil
1 1/4 pounds New York or sirloin steak, thinly sliced
1 1/2 teaspoons kosher salt
1/4 teaspoon plus 1/8 teaspoon black pepper
1 pound button mushrooms, thinly sliced
1/2 cup dry sherry
1/4 cup low-sodium chicken broth
1/3 cup sour cream
2 cups cooked white rice
1/2 cup fresh flat-leaf parsley, roughly chopped
Heat 1 tablespoon of the oil in a large skillet over medium-high heat.
Season the steak with 1 teaspoon of the salt and 1/4 teaspoon of the pepper.
Cook the steak until browned on all sides, about 3 minutes. Transfer to a plate.
Wipe out skillet. Add the remaining oil and place over medium-high heat. Add the mushrooms and cook until their juices evaporate, about 5 minutes.
Add the sherry and broth. Bring to a boil and cook until the liquid reduces to 1/4 cup, about 5 minutes.
Reduce heat to medium-low, add the sour cream, and heat until the mixture thickens.
Transfer the steak and any juices that have collected on the plate to the skillet, and add the remaining salt and pepper. Heat until warmed through.
Spoon the steak strips and mushroom sauce over the rice and sprinkle with the parsley.
Serves 4.
Substitution: substitute another fortified wine, such as Madeira, Marsala, or port for the sherry