 No matter how many times I've eaten it, I never tire of Caesar salad. As much as I love the classic chicken version, an updated variation is excitingly delicious. This recipe re-invents the salad by substituting shrimp for chicken and tortilla crisps for croutons. Tart lime juice freshens up the typical parmesan anchovy dressing. The final salad is cool, crunchy, and spicy. To experiment with this splendid salad
.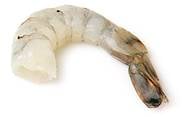 Ingredients
4 corn tortillas (5-inch)
2 teaspoons olive oil
1 1/2 teaspoons chili powder
Coarse salt and ground pepper
3/4 pound medium shrimp, peeled and deveined
1/3 cup light mayonnaise
2 tablespoons fresh lime juice
2 tablespoons grated Parmesan cheese, plus more for garnish
4 anchovy fillets, rinsed and minced
1 large head romaine lettuce (1 1/2 pounds), cut into 1-inch pieces
Directions
Preheat oven to 375 degrees.
Place tortillas on a baking sheet. Brush both sides with 1 teaspoon oil; sprinkle with 1/2 teaspoon chili powder, and season with salt and pepper. Bake until golden brown and crisp, turning once, 8 to 10 minutes. Let cool, then break into pieces.
Heat broiler. In a large bowl, toss shrimp with remaining teaspoon each oil and chili powder. Season with salt and pepper. Lay shrimp flat on a broiler pan, and cook until browned and opaque throughout, turning once, 3 to 4 minutes.
In a small bowl, whisk together mayonnaise, lime juice, Parmesan, anchovies, and up to 2 tablespoons water. Season with salt and pepper.
To serve, toss lettuce with dressing. Divide among plates, and top each with shrimp and broken tortillas. Garnish with more Parmesan.
Serves 4
Information
Category

Salads, Main Dishes

Cuisine

North American