 Instead of serving chicken salad piled on top of a bed of lettuce, or slapped between two slices of bread, consider serving it in halved fruit. It makes for an exotic and interesting twist. This recipe seasons the chicken with green onions, pineapple, ginger, and water chestnuts. The resulting salad is then heaped into a halved papaya or melon. Another alternative is to serve it in avocado halves. Look at the recipe when you
.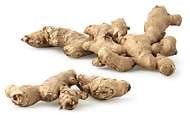 Caribbean Chicken Salad
Modified from Meal Time
Ingredients
1 1/2 cups cooked chicken, shredded into chunks
1 can (8 ounces) pineapple chunks, thoroughly drained
1/2 cup drained, canned water chestnuts, quartered
1/3 cup sliced green onions
3 tablespoons mayonnaise
1 1/2 tablespoons minced gingeroot
1 tablespoon fresh lime juice
Salt and pepper, to taste
2 papayas or 2 small melons, halved and seeded
Lime or lemon wedges
Directions
Toss the chicken, pineapple, water chestnuts and green onions.
Mix the mayonnaise, ginger, lime juice and salt and pepper. Toss with the chicken mixture.
Cut a thin slice from bottom of each fruit half to make a flat surface for plating; place halves on 4 serving plates.
Mound the chicken salad in the fruit halves. Serve with lime or lemon wedges.
Serves 4.
Nutritional Information Per Serving: Calories 340; Fat 12g; Cholesterol 40mg; Sodium 350mg; Carbohydrate 41g; Fiber 6g; Protein 17g
Information
Category

Salads, Chicken

Cuisine

Other