Fast & Easy Dinner: Caribbean Pork and Plantain Hash
Fast & Easy Dinner: Caribbean Pork and Plantain Hash When you're stuck in a middle-of-the-work-week rut, a great way to spice things up is through food. While this exotic meal may sound difficult to make — the ingredients are a bit unusual — the cooking techniques are simple and ordinary. Plantains are sautéed with onions, bell pepper, and garlic before being tossed with chunks of pork tenderloin. The final dish is mouth watering, exciting, and complex. To look at the recipe — I discovered it on MyRecipes.com —
.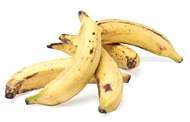 Ingredients
1 tablespoon low-sodium soy sauce
3/4 teaspoon salt, divided
3/4 teaspoon dried thyme
1/4 teaspoon ground ginger
1/4 teaspoon ground red pepper
1/8 teaspoon ground allspice
1 pound pork tenderloin, trimmed and cut into 1/2-inch pieces
1 1/2 tablespoons vegetable oil, divided
1 tablespoon butter
1 1/2 cups coarsely chopped onion
1 cup chopped green bell pepper
2 large yellow plantains, chopped (about 3 cups)
1/2 teaspoon black pepper
4 garlic cloves, minced
1 teaspoon habanero hot pepper sauce
2 tablespoons chopped fresh cilantro
Get more recipes at MyRecipes.com
Directions
Combine soy sauce, 1/4 teaspoon salt, thyme, and next 4 ingredients (thyme through pork); toss well to coat.
Heat 1 1/2 teaspoons oil in a large nonstick skillet over medium-high heat. Add pork mixture; sauté 4 minutes or until done. Remove from pan; keep warm.
Add the remaining 1 tablespoon oil and butter to pan. Add onion, bell pepper, plantains, 1/2 teaspoon salt, and black pepper; cook 6 minutes, stirring occasionally.
Stir in garlic; sauté 2 minutes or until plantains are tender.
Drizzle with hot sauce, and stir well. Sprinkle with cilantro.
Serves 4 (serving size: about 1 1/2 cups).
Nutritional Information: CALORIES 384(29% from fat); FAT 12.5g (sat 4g,mono 3.8g,poly 3.7g); PROTEIN 26.8g; CHOLESTEROL 81mg; CALCIUM 38mg; SODIUM 674mg; FIBER 4.7g; IRON 2.8mg; CARBOHYDRATE 44.9g
Like the recipe above? Try out some of these other ones:
— Dinner Tonight Recipes in 45-Minutes or Less
— Quick and Easy Meal Ideas
— How to Cook Caribbean from Cooking Light
— Get More Pork Tenderloin Recipes
Information
Category

Main Dishes, Pork

Cuisine

Other