Fast & Easy Dinner: Chicken with Cherry-Ginger Chutney
Fast & Easy Dinner: Chicken with Cherry-Ginger Chutney Chicken is the most versatile, blank canvas of meats because it takes on the flavor of the surrounding seasonings. Tonight make a scrumptious chicken flavored with a sweet chutney made from tart, dried cherries. Apples and walnuts add crunch to the chutney. The pan-fried chicken is pretty and delicious with the sauce spooned over it. For the simple recipe,
.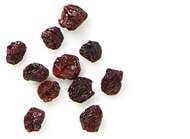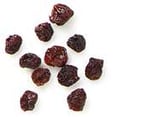 Ingredients
4 medium skinless, boneless chicken breast halves, each cut into 4 pieces
1/2 tsp. ground ginger
1 Tbsp. olive oil
1/2 cup dried tart red cherries
1 large apple, thinly sliced across fruit and seeded
1/3 cup coarsely chopped walnuts
4 tsp. packed brown sugar
3 Tbsp. cider vinegar
Directions
Lightly sprinkle chicken with salt, pepper, and 1/4 teaspoon of the ginger.
In skillet cook chicken in hot oil over medium heat 12 minutes (chicken is no longer pink). Transfer to serving platter; cover, keep warm.
Add fruit and nuts to skillet; cook, stirring frequently, 2 minutes.
For sauce, stir together brown sugar, 1/4 cup water, vinegar, and remaining ginger. Add to skillet; cook and stir 30 seconds. Add chicken back to the pan and toss to coat with the sauce, fruit, and nuts. Serve with more sauce poured over the chicken.
Serves 4.
Information
Category

Poultry, Main Dishes

Cuisine

North American