Fast & Easy Dinner: Chicken With Prosciutto and Sage
Fast & Easy Dinner: Chicken With Prosciutto and Sage If you shy away from saltimbocca because you don't eat veal, then do yourself a favor and try this twist on the classic Roman dish, which uses chicken in place of beef. The sage and prosciutto fulfill the recipe's promise to "jump in the mouth."
Dredging the chicken in flour creates a delicate, velvety texture, and a wine broth keeps the meat from being too dry. It's a just-salty-enough gourmet flavor that's quick to achieve.
To get the recipe,
.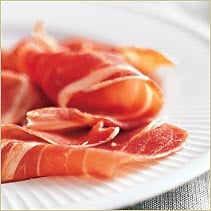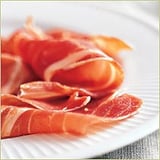 Ingredients
1/4 cup all-purpose flour
Coarse salt and ground pepper
4 fresh whole sage leaves, plus 4 minced leaves
4 (6 to 8 ounces each) chicken cutlets
4 slices (3 ounces) thinly sliced prosciutto
4 teaspoons olive oil
3/4 cup dry white wine
1/3 cup reduced-sodium canned chicken broth
1 tablespoon cold butter
Directions
In a shallow bowl, stir together flour, 1/2 teaspoon salt, and 1/4 teaspoon pepper. Set aside.
Lay 1 sage leaf lengthwise on each cutlet, then wrap a prosciutto slice around middle of each cutlet, encasing sage. Flatten with the palm of your hand to help prosciutto adhere to the chicken. Dredge cutlets in seasoned flour; tap off excess.
In a large nonstick skillet, heat 2 teaspoons oil over medium-high heat. Cook 2 cutlets until golden brown and cooked through, 3 to 4 minutes per side. Remove cutlets, and keep warm. Repeat with remaining 2 teaspoons oil and 2 cutlets.
Add wine and broth to skillet; cook over high heat until reduced by three-quarters, about 2 minutes. Remove from heat; let cool 1 minute. Add butter and minced sage; stir until butter is melted, about 30 seconds. Spoon sauce onto plates; top with cutlets. Serve immediately.
Serves 4.
Information
Category

Poultry, Main Dishes

Cuisine

Italian