Fast & Easy Dinner: Chicken Salad Wraps
Fast & Easy Dinner: Chicken Salad Wraps Get your family excited about dinner with this hands-on meal. Have younger children help shred the chicken and older kids prep and chop the veggies. Then at the table, everyone can assemble a wrap to their own liking.
Don't be afraid to get creative with the filling; red peppers and mushrooms would be welcome additions. For this healthy, uncomplicated, and satisfying meal,
.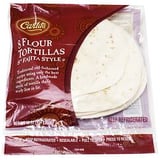 Ingredients
1/2 cup lemon juice
1/3 cup fish sauce
1/4 cup sugar
2 cloves garlic, minced
1/4 teaspoon crushed red pepper
8 6-inch flour tortillas
4 cups shredded romaine lettuce
3 cups shredded cooked chicken (12 ounces)
1 large ripe tomato, cut into thin wedges
1 cup grated carrots (2 medium)
2/3 cup chopped scallions (1 bunch)
2/3 cup slivered fresh mint
Directions
Whisk lemon juice, fish sauce, sugar, garlic and crushed red pepper in a small bowl until sugar is dissolved.
Preheat oven to 325° F. Wrap tortillas in foil and heat in the oven for 10 to 15 minutes, until softened and heated through. Keep warm.
Combine lettuce, chicken, tomato, carrots, scallions and mint in a large bowl. Add 1/3 cup of the dressing; toss to coat.
Set out the chicken mixture, tortillas and the remaining dressing for diners to assemble wraps at the table. Serve immediately.
Serves 4.
Information
Category

Poultry, Main Dishes

Cuisine

Other Asian