 I was surprised that several of you have never tasted deep-dish pizza, so I found this shortcut recipe to share. Although it's simple enough to make at the end of the week, it's delicious and filling. The traditional heavy tomato sauce is replaced with a mixture of sun-dried tomatoes, radicchio, mozzarella, and Parmesan cheese. If you dislike this combination of toppings, get creative: Italian sausage and garlic, or pancetta and mushrooms would be scrumptious.
To learn the technique,
.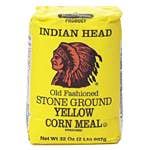 Ingredients
1 tablespoon plus 1 teaspoon olive oil
1 cup polenta or cornmeal
1 teaspoon kosher salt
1/2 teaspoon black pepper
1/3 cup (about 2 ounces) grated Parmesan
1/2 head radicchio, shredded
1/2 cup sun-dried tomatoes, drained and thinly sliced
4 ounces mozzarella, cut into a 1/2-inch dice
Directions
Heat oven to 400°F. Coat a 9-inch springform pan, round cake pan, or pie plate with 1 tablespoon of the oil and set aside.
In a medium saucepan, bring 2 1/4 cups water to a boil. Whisking constantly, slowly add the polenta or cornmeal.
Reduce heat to low and cook, stirring, until the polenta starts to pull away from the sides of the pan, 4 to 5 minutes. Stir in the salt, 1/4 teaspoon of the pepper, and the Parmesan. Remove from heat.
Spread the polenta over the bottom of the prepared pan, using a spoon to form a raised edge.
In a bowl, combine the radicchio, tomatoes, mozzarella, and the remaining oil and pepper. Spoon the mixture over the polenta.
Bake for 30 minutes. Cut into wedges.
Serves 4-6.
Information
Category

Main Dishes, Pizza

Cuisine

Italian