Fast & Easy Dinner: Eggplant and Portobello Schnitzel
Fast & Easy Dinner: Eggplant and Portobello Schnitzel In German, schnitzel is the word for "cutlet" and the culinary technique usually refers to an ingredient that has been breaded. In this vegetarian variation, thick eggplant slices and meaty portobello mushrooms are dipped in egg and breadcrumbs. Instead of the usual fatty pan-frying, the veggies are baked until brown and crisp in the oven. A delightfully simple lemon-caper butter sauce makes this dish elegant enough for entertaining.
Look at the recipe when you
.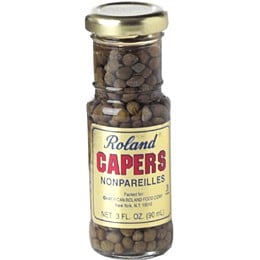 Ingredients
Schnitzel
1 cup nonfat milk
1 large egg
2 cups Italian-seasoned dried breadcrumbs
8 large portobello mushrooms, stemmed
2 medium-sized eggplants, sliced into 1/2-inch rounds
Lemon-Caper Sauce
3 Tbs. unsalted butter
3 Tbs. olive oil
3 tsp. capers
3 Tbs. lemon juice
2 Tbs. parsley, chopped
Lemon slices and parsley sprigs for garnish, optional
Directions
Preheat oven to 350F. Coat baking sheet with cooking spray.
To make Schnitzel: whisk together milk and egg in wide bowl. Spread breadcrumbs on large plate.
Dip mushrooms and eggplant slices into milk mixture, then coat slices with breadcrumbs. Shake off excess crumbs, and set on prepared baking sheet.
Spray vegetables with cooking spray, and bake 10 minutes. Flip vegetables, spray with cooking spray, and bake 10 to 15 minutes more, or until vegetables are tender and breadcrumbs are dark golden brown. Set aside.
Meanwhile, make Lemon-Caper Sauce: melt butter in saucepan over medium-high heat. Cook 2 to 3 minutes, or until butter begins to brown. Stir in oil and capers, and cook 1 minute more. Remove from heat, and add lemon juice and parsley.
To serve: Stack 1 mushroom and several eggplant rounds on each plate; drizzle with Lemon-Caper Sauce, and garnish with lemon slices and parsley sprigs, if desired. Serve immediately.
Serves 8.
Information
Category

Other, Main Dishes

Cuisine

German