 Tonight, serve your family this creepy recipe that says Happy Halloween! While the soup is a creamy, comforting classic, the eyeball and bug garnishes are far from ordinary. The crushed tomato vegetable mixture needs a half an hour to cook, so let the soup simmer while the kids put on their costumes.
However, if your night is too crazy to put together a soup, simply make the scary garnishes and serve with a store-bought tomato soup. To get the warming recipe,
.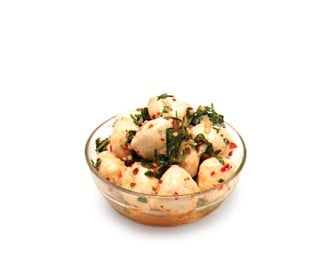 Ingredients
2 tablespoons unsalted butter
1 onion, finely chopped
3 garlic cloves, minced
1/2 cup dry white wine
2 cans (28 ounces each) crushed tomatoes
1 quart homemade or low-sodium store-bought chicken stock
3 sprigs oregano or marjoram
1/2 cup half-and-half
Coarse salt and freshly ground pepper
6 pitted black Kalamata olives
2 sprigs fresh rosemary
4 fresh chives, cut into 1-inch pieces
1 pound (about 30) bocconcini (bite-size mozzarella balls)
1 jar small pimiento-stuffed olives
Directions
Melt butter in a large saucepan over medium-low heat. Add onion and garlic, and cook until onion is translucent, about 6 minutes.
Add wine, and cook until most liquid has evaporated, about 1 minute.
Add tomatoes, stock, and oregano, and bring to a boil.
Reduce heat, and simmer gently until thickened, 30-45 minutes.
Using a slotted spoon, remove herbs. Puree soup in small batches until smooth. Return to pan, and slowly pour in half-and-half, stirring constantly. Season with salt and pepper.
Meanwhile, make the bugs: Use a toothpick to pierce each Kalamata olive 4 times (all the way through to other side). Insert a rosemary leaf into each hole to make eight legs. Insert two pieces of chive into the small hole at the end of the olive to make antennae.
Make the eyeballs: Using a small melon baller, scoop out a hole from each bocconcini. Halve each pimiento-stuffed olive crosswise. Place a half, cut side out, in the hole in each bocconcini to make eyeballs.
Ladle hot soup into shallow bowls. Float 4 or 5 eyeballs in soup, and place a bug on rim of each bowl.
Serves 6.
Information
Category

Main Dishes, Soup

Cuisine

North American