Fast & Easy Dinner: Fresh Tuna Salad with Avocado
Fast & Easy Dinner: Fresh Tuna Salad with Avocado Give tuna salad a gourmet makeover by using fresh tuna instead of its canned counterpart. In this delicious dinner recipe, the tuna steak is seared in a fennel, black pepper infused olive oil. Grown up ingredients — capers, garlic, and black olives — are stirred into the mayonnaise based dressing.
Served in avocado halves, this salad is rewarding, sophisticated, and scrumptious.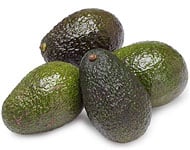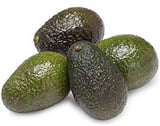 Ingredients
1/2 cup extra-virgin olive oil
1 tablespoon fennel seeds
1 tablespoon black peppercorns
One 3/4-pound tuna steak, cut 1 inch thick
Salt
1/2 cup plus 2 tablespoons mayonnaise
2 anchovy fillets, minced
2 tablespoons capers, drained and chopped
1 garlic clove, minced
2 tablespoons fresh lemon juice
2 celery ribs, sliced crosswise 1/8 inch thick
1 small red onion, finely diced
1/3 cup pitted oil-cured black olives, chopped
4 Hass avocados, halved and pitted
Pea shoots or alfalfa sprouts, for garnish (optional)
Directions
In a medium saucepan, combine the olive oil, fennel seeds and peppercorns and bring to a simmer over moderately low heat.
Season the tuna with salt and add it to the saucepan. Simmer the tuna steak over low heat, turning once, until barely pink in the center, about 15 minutes. Transfer to a plate and scrape off the fennel and peppercorns. Strain and reserve the oil.
Meanwhile, in a large bowl, blend the mayonnaise with the minced anchovies, capers, garlic and 1 tablespoon of the fresh lemon juice.
Stir the celery, onion and olives into the dressing. Using a fork, break the tuna into 1-inch pieces, then fold into the dressing. Season with salt.
Set 2 avocado halves on each of 4 plates, skin side down.
Drizzle the avocado flesh with some of the reserved spice-infused olive oil and the remaining 1 tablespoon of fresh lemon juice.
Spoon about 1/2 cup of the tuna salad into the center of each avocado half. Top the tuna salad with the pea shoots or alfalfa sprouts and serve.
Serves 4.
Information
Category

Salads, Main Dishes

Cuisine

North American