Fast & Easy Dinner: Garden Caesar Salad
Fast & Easy Dinner: Garden Caesar Salad With its crunchy croutons, crisp leafy greens, and tangy dressing, the Caesar can be considered the king of dinner salads. In this grown up variation, subtle changes enhance the flavor and appearance of the dish. Radishes act as a pop of pretty color, shaved instead of grated Parmesan adds depth to each biteful, and fresh anchovies are deliciously salty. The anchovies are not necessary, so if the little fish is too overpowering simply omit from the salad.
To take a look at the recipe, which was developed by MyRecipes.com,
.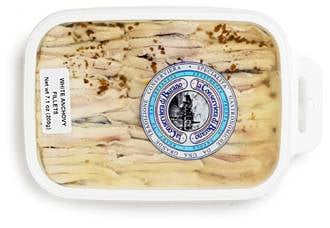 Garden Caesar Salad
From Sunset magazine
Ingredients
12 diagonal slices (1/4 in. thick) baguette (about 1/4 of an 8-oz. loaf)
About 6 tablespoons extra-virgin olive oil
1 large clove garlic, peeled
2 tablespoons lemon juice
2 canned anchovy fillets, drained and minced (optional)
1/8 teaspoon Worcestershire
3 large egg yolks (see notes)
1 pound romaine lettuce (1 large or 2 small heads), rinsed, crisped, and large leaves torn into large pieces (leave small inner leaves whole)
1/2 cup freshly shaved parmesan cheese
Fresh-ground pepper
4 radishes, stemmed and rinsed
8 marinated fresh anchovies (optional; see notes)
Get more recipes at MyRecipes.com
Directions
Brush one side of each baguette slice with olive oil. Cut garlic clove in half and rub a cut side lightly over oiled side of each slice. Place slices oiled side up on a 10- by 15-inch baking sheet. Bake in a 350º regular or convection oven until crisp and golden, 8 to 10 minutes. Let croutons cool.
Meanwhile, mince or press 1 teaspoon garlic from remainder of garlic clove.
In a 1- to 2-cup glass measure, combine 5 tablespoons olive oil, lemon juice, minced anchovies, Worcestershire, and minced garlic. In a large salad bowl, whisk egg yolks to blend. Whisking constantly, pour olive oil mixture slowly into egg yolks, pausing to whisk occasionally so that mixture forms a smooth emulsion.
Add romaine and parmesan to bowl and mix gently to coat. Grind pepper into salad to taste.
Mound equally on plates. Very thinly slice 4 radishes and sprinkle over salads. Arrange croutons alongside; if desired, drape marinated anchovies, skin side up, over croutons.
Serves 4 to 6.
Nutritional Information: CALORIES 231(78% from fat); FAT 20g (sat 4.4g); PROTEIN 7g; CHOLESTEROL 113mg; SODIUM 227mg; FIBER 2.1g; CARBOHYDRATE 8.6g
Like the recipe above? Try out some of these other ones:
— 7 Cool Salads Under 300 Calories
— Browse Salad Recipes
— Quick, Weeknight Favorites at Sunset.com
— Get More Salad Recipes
Information
Category

Salads, Main Dishes

Cuisine

North American