 Several years ago, after watching an episode of this new Food Network show called 30 Minute Meals, I decided to take the somewhat unheard-of chef's advice. According to this Rachael Ray lady, anchovies lose their intense fishy flavor when cooked down in a sauce. After trying one of her recipes, I realized she was right! Since then, I've made many pasta dishes that include anchovies as an ingredient.
I can't wait to experiment with this broccoli rabe variation. Toasted panko bread crumbs provide crunch and crushed red pepper flakes add a subtle heat. Ready to overcome your fear of anchovies? Get the recipe and
.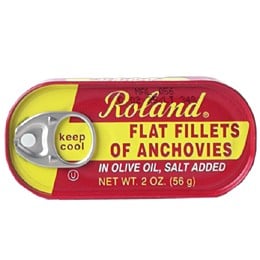 Gemelli With Broccoli Rabe and Anchovies
From Gourmet
Ingredients
1 pound gemelli or other corkscrew pasta
1 (1-pound) bunch broccoli rabe, coarse stems discarded and remainder cut crosswise into 1-inch pieces
1 cup panko (Japanese crisp bread crumbs)
1/2 cup extra-virgin olive oil
6 garlic cloves, coarsely chopped
1 (2-ounce) can flat anchovy fillets, drained
1/2 teaspoon dried hot red-pepper flakes, or to taste
Directions
Put oven rack in middle position and preheat oven to 350°F.
Cook pasta in a 7- to 8-quart pot of boiling salted water 6 minutes, then stir in broccoli rabe and boil until pasta is al dente, about 5 minutes more.
While pasta is cooking, toss panko with 1 tablespoon oil in a shallow baking pan until coated and bake, stirring once or twice, until golden, 8 to 10 minutes. Season crumbs with salt.
While broccoli rabe (with pasta) is cooking, cook garlic, anchovies, and red-pepper flakes in remaining 7 tablespoons oil in a 12-inch heavy skillet over moderate heat, stirring and mashing anchovies into oil with a wooden spoon, until garlic is golden, about 3 minutes. Remove from heat.
Drain pasta and broccoli rabe in a colander, then add to anchovy mixture in skillet, tossing to combine.
Serve pasta sprinkled with some toasted panko and pass remainder.
Serves 4-6.
Information
Category

Pasta, Main Dishes