 Savor the last of Summer's strawberries with this flavor-packed meal. The berries add a delightful sweetness to both the salad and sauce. The pork chops are seasoned with fresh ginger, and the scrumptious sauce combines juicy ginger with the plump berries.
An unexpected ingredient, frozen lemonade concentrate, brings a syrupy tartness to the sauce. Served atop a bed of spinach, this meal is balanced and filling, so get the recipe and
.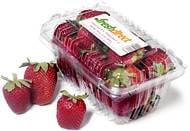 Ingredients
1 tablespoon extra-virgin olive oil, plus more for drizzling
4 thick boneless pork loin chops
Salt and pepper
2 tablespoons grated fresh ginger
1 pint strawberries, sliced
6 ounces (half of a 12-ounce can) frozen lemonade concentrate
2 teaspoons ground ginger
One 6-ounce bag baby spinach
2 ounces goat cheese, crumbled
Balsamic vinegar, for drizzling
Directions
In a heavy skillet, heat the olive oil over medium-high heat.
Rub both sides of each pork chop with salt, pepper, and the fresh ginger. Add to the skillet and cook for 1 minute, then cover, lower the heat to medium, and cook for 10 minutes.
Flip the chops, cover and cook until brown, 10 minutes longer. Transfer to a plate and keep warm. Reserve the skillet.
Set aside 1 cup strawberries for the salad.
Add the remaining strawberries, lemonade concentrate, ground ginger, and 3/4 cup water to the skillet and stir to combine.
Bring to a boil over high heat, scraping the browned bits from the bottom of the pan. Cook, stirring, and smashing the berries, until the sauce is thick and reduced to about 1 cup, about 5 minutes.
Divide the spinach among 4 plates and top with the goat cheese and reserved strawberries. Drizzle with olive oil and balsamic vinegar; season to taste with salt and pepper.
Place a pork chop on each plate and top with the strawberry-lemonade sauce.
Serves 4.
Information
Category

Main Dishes, Pork

Cuisine

North American