 Although it's not necessarily a classic pairing, goat cheese and grapes make one delicious odd couple. I first fell in love with the duo as a topping for crostini and tonight I'm excited to experiment with the creamy cheese and burst-in-your-mouth fruit as a pizza topping. Store-bought dough means this meal comes together in under a half an hour.
For a dinner that is healthy and satisfying, serve with simple greens. Look at the uncomplicated recipe when you
.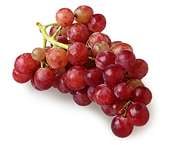 Ingredients
2 1/2 cups green or red grapes, halved
1 tablespoon finely chopped rosemary
3 tablespoons extra-virgin olive oil
1 pound store-bought pizza dough
8 ounces soft goat cheese
Directions
Preheat a gas or charcoal grill to medium, or the oven to 450° F.
Toss together the grapes, rosemary, and 1 tablespoon of the olive oil; set aside.
Divide the dough into thirds and stretch each portion into a 10-inch circle.
Place the rounds on the grill or in the oven until cooked through, about 6 minutes, flipping each halfway through if using a grill.
Distribute the grapes, spoonfuls of the goat cheese, and the remaining olive oil on the pizzas.
Cover the grill (if using) and heat until the cheese begins to melt, about 5 minutes.
Serves 6.
Information
Category

Main Dishes, Pizza

Cuisine

Italian