 Quesadillas are the perfect simple and quick dinner because they can be filled with anything, take little time to make, and are crowd pleasers. When paired with a leafy green salad, they make a satisfying meal. Tonight make vegetarian quesadillas filled with bean and corn salsa and lots of grated cheese. To make things even easier, bake the quesadillas in the oven instead of frying them on the stove. If this sounds appetizing to you, take a look at the recipe and
.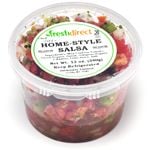 Ingredients
1 15.5-ounce can black beans, drained
1 11-ounce can corn kernels, drained
3/4 cup salsa, drained
1 8-count package large flour tortillas
1 1/2 cups (6 ounces) shredded Cheddar or Monterey Jack
1 small red onion, thinly sliced
1/3 cup fresh cilantro leaves
1/2 teaspoon kosher salt
1/4 teaspoon black pepper
Juice of 1 to 2 limes
2 tablespoons extra-virgin olive oil
1 head romaine lettuce, sliced 1 inch thick
Directions
Heat oven to 400° F.
In a medium bowl, combine the beans, corn, and salsa.
Place 4 tortillas on a parchment- or foil-lined baking sheet. Sprinkle with half the cheese. Using a slotted spoon, transfer the black bean mixture on top of the cheese. Sprinkle with the remaining cheese and sandwich with the remaining tortillas.
Bake until the cheese has melted, 5 to 7 minutes.
Meanwhile, in a large bowl, combine the onion, cilantro, salt, pepper, lime juice, and oil. Add the lettuce and toss.
Transfer the quesadillas to a cutting board. Cut each into 6 wedges. Serve with the salad.
Serves 4.
NUTRITION PER SERVING: CALORIES 702(38% from fat); FAT 30g (sat 12g); SUGAR 9g; PROTEIN 28g; CHOLESTEROL 45mg; SODIUM 1,923mg; FIBER 15g; CARBOHYDRATE 83g
Information
Category

Cheese, Main Dishes

Cuisine

Mexican