Fast & Easy Dinner: Korean Beef Bok Choy
Fast & Easy Dinner: Korean Beef Bok Choy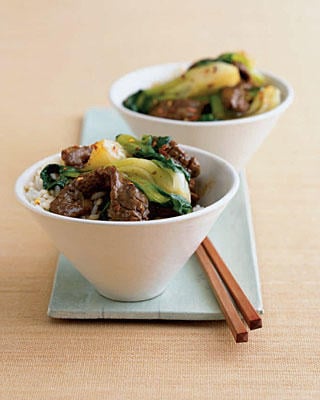 Korean food is going to be really big this year, so why not experiment with some in your own kitchen? Keep things simple by investing in a Korean style stir-fry sauce. Use it to season an uncomplicated, quick-cooking mixture of beef and bok choy.
Don't hesitate to get creative with the recipe. Throw in other veggies — mushrooms, broccoli, or onions would be delicious — and use a different protein like chicken or tofu. Intrigued? Wait until you check out the recipe.


Ingredients
4 teaspoons vegetable oil
12-oz beef flank steak
1⁄3 cup Korean teriyaki stir-fry sauce
1-1⁄4 lb baby bok choy, larger leaves removed and quartered, centers quartered lengthwise
Serve with: rice
Directions
Cut steak diagonally across the grain in 1⁄4-in.-thick slices.
Heat 1 teaspoon oil in a large nonstick skillet over medium-high heat until rippling. Add half the meat; stir-fry 30 seconds until no longer pink. Remove to a bowl. Repeat with another teaspoon oil and rest of meat. Add to bowl; stir in 2 tablespoon stir-fry sauce.
Add 2 more teaspoons oil to skillet, then bok choy. Stir-fry 30 seconds. Add 3 tablespoons water; cover and steam 1 minute. Uncover, add remaining sauce and stir-fry 1 minute until bok choy is crisp-tender.
Add meat and juices; stir-fry 30 seconds to heat through. Sprinkle with crushed red pepper, if desired.
Serves 4.
Information
Category

Main Dishes, Beef

Cuisine

Other Asian