Fast & Easy Dinner: Linguine With Clams and Artichokes in Red Sauce
Fast & Easy Dinner: Linguine With Clams and Artichokes in Red Sauce Linguine with clams is one of my all-time favorite meals. While sometimes I indulge in a creamy, cheesy version, I actually prefer a lighter variation like this one that lets the flavor of the shellfish shine. The simple sauce — a combination of shallots, garlic, artichoke hearts, and jarred tomato sauce — comes together in less than 15 minutes. Basil and parsley add fresh fragrance to this luscious pasta. To check out the recipe — another winner from MyRecipes.com! —
.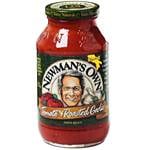 Linguine with Clams and Artichokes in Red Sauce
From Cooking Light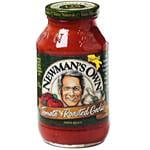 Ingredients
2 tablespoons olive oil
2 tablespoons diced shallots
2 garlic cloves, minced
1/3 cup dry white wine
1/4 teaspoon black pepper
1 (26-ounce) jar tomato-basil pasta sauce
1 (14-ounce) can quartered artichoke hearts, drained
1 (10-ounce) can baby clams, undrained
2 tablespoons chopped fresh or 2 teaspoons dried basil
2 tablespoons finely chopped fresh parsley
4 cups hot cooked linguine (about 8 ounces uncooked pasta)
Get more recipes at MyRecipes.com
Directions
Heat the oil in a large saucepan over medium-high heat. Add the shallots and garlic, and sauté 2 minutes or until tender.
Add wine and next 4 ingredients (wine through clams); reduce heat, and simmer for 5 minutes.
Stir in basil and parsley. Serve sauce over pasta.
Serves 4 (serving size: 1 cup sauce and 1 cup pasta).
Nutritional Information: CALORIES 434(19% from fat); FAT 9.2g (sat 1.3g,mono 5.4g,poly 1.6g); PROTEIN 12.9g; CHOLESTEROL 31mg; CALCIUM 297mg; SODIUM 957mg; FIBER 6g; IRON 6.4mg; CARBOHYDRATE 65.6g
Like the recipe above? Try out some of these other ones:
— Best of Italian Recipe Collection
— 7 Ways with Linguine
— How to Cook Perfect Pasta from Cooking Light
— Get More Pasta Recipes
Information
Category

Pasta, Main Dishes

Cuisine

Italian