Fast & Easy Dinner: Low-Fat Fettuccine Alfredo
Fast & Easy Dinner: Low-Fat Fettuccine Alfredo I love everything about creamy, decadent pasta sauces. However, I know they're incredibly unhealthy. That's why I enjoy making lighter versions like this low-fat fettuccine Alfredo. The recipe calls for skim milk and tons of crunchy, green broccoli. A small amount of good quality parmesan cheese adds depth and flavor. To recreate this classic pasta dish in a more healthful manner,
.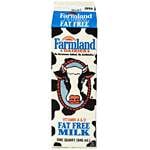 Ingredients
12 ounces fettuccine
1 head of broccoli
1 1/2 cups cups skim milk
1 tablespoon unsalted butter
1 tablespoon flour
3/4 cup freshly grated Parmesan
1/2 teaspoon kosher salt
Directions
Cook fettuccine according to the package directions; drain.
Meanwhile, bring a pot of salted water to a boil and cook broccoli (cut into florets, stalks peeled and sliced), 3 minutes; drain.
Heat skim milk and butter in a large saucepan over low heat. Slowly whisk in flour.
Simmer until slightly thickened, whisking constantly, 1 to 2 minutes.
Remove from heat and stir in Parmesan and salt.
Add the pasta and broccoli and stir over low heat until heated through. Top each serving with Parmesan shavings.
Serves 4.
NUTRITION PER SERVING: CALORIES 445(0% from fat); FAT 9g (sat 5g); PROTEIN 22mg; CHOLESTEROL 23mg; CALCIUM 312mg; SODIUM 568mg; FIBER 4g; CARBOHYDRATE 72g; IRON 3mg
Information
Category

Pasta, Main Dishes

Cuisine

Italian