 While it may seem quicker to pan-fry chicken, baking chicken can actually be quite rapid, especially if you use breast halves. In this scrumptious recipe, chicken is coated in a mustard-thyme mixture before being dipped in to parmesan cheese. The chicken is then baked at a high temperature until crisp and succulent. A peppery arugula salad pairs nicely with the chicken, however if you dislike arugula substitute spinach or your favorite green. To take a look at the recipe,
.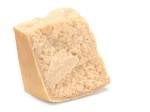 Parmesan-Crusted Chicken with Arugula Salad
From Food and Wine magazine
Ingredients
1 tablespoon Dijon mustard
1 tablespoon extra-virgin olive oil
1/2 teaspoon chopped thyme
Four 6-ounce skinless, boneless chicken breast halves
Salt and freshly ground pepper
1/2 cup freshly grated Parmesan cheese (1 1/2 ounces)
4 cups packed arugula leaves
1 cup cherry tomatoes, halved
Directions
Preheat the oven to 475°.
In a small bowl, combine 2 teaspoons of the mustard with 2 teaspoons of the olive oil and the thyme.
Season the chicken breasts with salt and pepper, then brush them all over with the mustard mixture. Pat 2 tablespoons of the Parmesan all over each breast.
Transfer the chicken breasts to a rimmed baking sheet. Bake the chicken on the top shelf of the oven for about 15 minutes, or until just cooked through and nicely browned.
Meanwhile, in a medium bowl, combine the remaining 1 teaspoon each of mustard and olive oil; stir in 1/2 teaspoon of water.
Add the arugula and tomatoes, season with salt and pepper and toss well. Spoon the salad onto plates, top with the chicken and serve.
Serves 4.
Information
Category

Poultry, Main Dishes

Cuisine

North American