Fast & Easy Dinner: Portobello, Broccoli, and Red-Pepper Melts
Fast & Easy Dinner: Portobello, Broccoli, and Red-Pepper Melts Looking for a hearty and delicious vegetarian-friendly recipe to serve at a Super Bowl party? Look no further than this open-faced sandwich. Although the ingredients are simple, the final dish is superbly balanced in flavor. It's a highly versatile recipe, so cater it to suit your needs. If you dislike broccoli, substitute a leafy green like spinach or arugula; if red peppers aren't your thing, use sundried tomatoes instead. Apply the same open-minded theory to the cheese topping: The recipe recommends gouda, but goat cheese, white cheddar, or gruyere would be melty and scrumptious. Learn how to make this dish:
.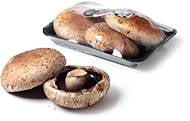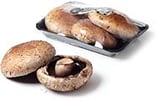 Ingredients
1 small head broccoli, cut into small florets (stalk discarded)
1 tablespoon olive oil
Coarse salt and ground pepper
4 portobello mushrooms (stems removed), sliced 1/2 inch thick
2 red bell peppers (ribs and seeds removed), sliced 1/2 inch thick
1/4 cup light mayonnaise
1 small garlic clove, crushed through a press
4 thick slices country bread
4 ounces Gouda cheese, thinly sliced
Directions
Heat broiler, with rack set 4 inches from heat.
On a rimmed baking sheet lined with aluminum foil, toss broccoli with oil; season with salt and pepper. Broil, tossing once or twice, until broccoli begins to char, 4 to 6 minutes.
Add mushrooms and bell peppers to sheet; season with salt and pepper, and toss to combine. Broil, tossing once or twice, until vegetables are tender, 8 to 10 minutes more; set aside.
Meanwhile, in a small bowl, combine mayonnaise and garlic; season with salt and pepper.
Place bread on a work surface. Dividing evenly, spread with mayonnaise mixture, and top with vegetables, then cheese.
Place on baking sheet, and broil until cheese is melted and lightly browned, 2 to 4 minutes.
Serves 4.
Information
Category

Main Dishes, Sandwiches