Fast & Easy Dinner: Provençal Pizza
Fast & Easy Dinner: Provençal Pizza Homemade pizza is as easy as one, two, three in this Mediterranean-inspired recipe. All you have to do is roll out the convenient puff pastry dough, top it with an assortment of classic Provençal flavors (like tomatoes and black olives), and bake until crisp and delicious.
Anchovies are listed among the ingredients, but if you can't stomach the salty fish, simply don't use them. For the rapid yet scrumptious recipe,
.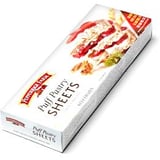 Ingredients
1 sheet (about 9 ounces) frozen puff pastry, thawed
3/4 cup ratatouille, caponata, or other Mediterranean vegetable condiment (drained if very juicy)
1/2 cup halved grape or other small tomatoes
1/3 cup crumbled feta cheese
1/3 cup roughly chopped pitted kalamata, niçoise, or other good-quality black olives
Scant 1/4 cup chopped sun-dried tomatoes in oil, drained
8 anchovy fillets
1/2 cup (about 1 ounce) freshly and finely grated Parmesan cheese
Olive oil, for brushing (optional)
2 tablespoons roughly chopped fresh basil or parsley leaves
Directions
Heat the oven to 400 degrees F. On a lightly floured counter, roll the pastry into an 11-by-15-inch rectangle. Slide it onto a baking sheet and prick all over with a fork. Moisten the perimeter with a little water and fold up the edge to create a 1/2-inch border.
Spread the ratatouille evenly over the pastry. Distribute the tomatoes, feta, olives, and sun-dried tomatoes on top.
Bake for about 18 minutes, then arrange the anchovies in a neat pattern on top and sprinkle on the Parmesan.
Continue baking until the pastry is puffed around the edges and golden brown (check the underside, too), another 4 to 5 minutes.
Slide onto a cutting board, immediately brush the edges with some olive oil (if using), and sprinkle with the herbs. Cut into squares and serve warm.
Serves 2-3.
Information
Category

Pasta, Main Dishes

Cuisine

Mediterranean/Middle Eastern