 If you're looking for an innovative recipe to liven up your weeknight repertoire, consider this healthy salad. Don't be intimidated by the ingredients: quinoa is cooked by a technique that's similar to making rice, and the scallops are quick-seared on the stovetop. Asian condiments — soy sauce, sesame oil, and rice vinegar — provide depth of flavor, while snow peas and red peppers give the salad a snappy crunch. To look at the recipe,
.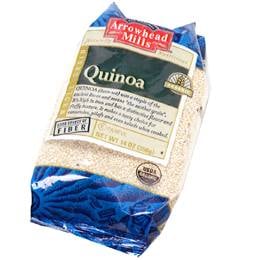 Quinoa Salad With Scallops & Snow Peas
From Eating Well
Ingredients
12 ounces sea scallops, cut into 1/2-inch pieces, or bay scallops
4 teaspoons reduced-sodium tamari or soy sauce, divided
4 tablespoons plus 2 teaspoons canola oil, divided
1 1/2 cups quinoa, rinsed well
2 teaspoons grated or minced garlic
3 cups water
1 teaspoon salt
1 cup trimmed and diagonally sliced snow peas (1/2 inch thick)
1/3 cup rice vinegar
1 teaspoon toasted sesame oil
1 cup thinly sliced scallions
1/3 cup finely diced red bell pepper
1/4 cup finely chopped fresh cilantro for garnish
Directions
Toss scallops with 2 teaspoons tamari (or soy sauce) in a medium bowl. Set aside.
Place a large, high-sided skillet with a tight-fitting lid over medium heat. Add 1 tablespoon canola oil and quinoa. Cook, stirring constantly, until the quinoa begins to color, 6 to 8 minutes.
Add garlic and cook, stirring, until fragrant, about 1 minute more. Add water and salt and bring to a boil. Stir once, cover and cook over medium heat until the water is absorbed, about 15 minutes. (Do not stir.)
Remove from the heat and let stand, covered, for 5 minutes.
Stir in snow peas, cover and let stand for 5 minutes more.
Meanwhile, whisk 3 tablespoons canola oil, the remaining 2 teaspoons tamari (or soy sauce), vinegar and sesame oil in a large bowl. Add the quinoa and snow peas, scallions and bell pepper; toss to combine.
Remove the scallops from the marinade and pat dry. Heat a large skillet over medium-high until hot enough to evaporate a drop of water upon contact. Add the remaining 2 teaspoons canola oil and cook the scallops, turning once, until golden and just firm, about 2 minutes total. Gently stir the scallops into the quinoa salad. Serve garnished with cilantro, if desired.
Serves 6.
Information
Category

Grains , Main Dishes

Cuisine

Other Asian