Fast & Easy Dinner: Saucy Beans and Eggplant
Fast & Easy Dinner: Saucy Beans and Eggplant During the Summer it's important to take advantage of the bounty of fresh vegetables. In this vegetarian dish, the pure flavor of eggplant is highlighted. The simple recipe combines canned beans with a garlicky pasta sauce and breaded, sautéed eggplant. Salty feta cheese is a lovely garnish to this delicious dinner.
This recipe is a must make, so get it now when you
.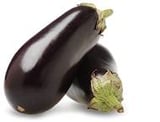 Ingredients
1 small eggplant (about 10 to 12 ounces), cut in 8 slices
3 Tbsp. olive oil
1/4 cup seasoned fine dry bread crumbs
1 cup instant brown rice
Sliced green onion (optional)
1 15-oz. can navy or Great Northern beans, rinsed and drained
1 26-oz. jar roasted garlic pasta sauce
Crumbled Feta Cheese (optional)
Directions
Brush eggplant lightly with half the oil; sprinkle with salt and pepper. Coat in bread crumbs.
In 12-inch skillet cook eggplant in remaining oil over medium-high heat 5 minutes per side. Turn frequently.
Cook rice according to package directions; stir in green onion if using.
In another saucepan combine beans and pasta sauce; heat through.
Serve eggplants with rice and beans. Top with feta and black pepper.
Serves 4.
Information
Category

Main Dishes, Beans