Fast & Easy Dinner: Sauteed Pork and Pear Salad
Fast & Easy Dinner: Sauteed Pork and Pear Salad A great thing about Fall fruits, specifically pears, is that they can be used as an ingredient in both sweet and savory dishes. In this case, the pears are a crisp addition to a scrumptious salad. The classic pairing is pork and apples, but pears complement the peppered protein as nicely as their crunchy counterpart. A drizzle of a quick honey-mustard sauce finishes off this hearty and delicious dish. To start your weekend with this salad,
.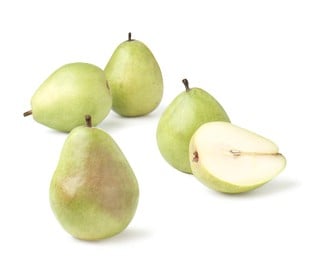 Sauteed Pork and Pear Salad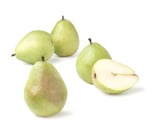 Ingredients
8 ounces boneless pork top loin roast or pork tenderloin
1/2 teaspoon black pepper
1/2 teaspoon dried sage, crushed, or 1-1/2 teaspoons snipped fresh sage
Nonstick cooking spray
1/4 cup coarsely chopped hazelnuts or almonds, toasted
1/2 cup unsweetened pineapple juice
1 tablespoon olive oil
1 tablespoon honey
2 teaspoons Dijon-style mustard
6 cups torn mixed salad greens
2 medium pears, cored and sliced
Directions
Trim fat from pork. Cut pork across the grain into thin, bite-size strips. Sprinkle with pepper and sage.
Coat an unheated large nonstick skillet with nonstick cooking spray. Preheat over medium-high heat.
Add pork. Cook and stir for 2 to 3 minutes or until meat is slightly pink in the center.
Add nuts. Cook and stir for 30 seconds more. Remove meat mixture. Cover and keep warm.
For dressing, in the same skillet combine pineapple juice, oil, honey, and Dijon-style mustard. Cook and stir just until bubbly, scraping up any crusty browned bits from bottom of the skillet.
Divide salad greens among 4 shallow bowls or dinner plates. Arrange pears on greens. Top with pork mixture. Drizzle with dressing. Serve immediately.
Serves 4.
Nutrition Facts: Calories 260, Total Fat (g) 12, Saturated Fat (g) 2, Cholesterol (mg) 31, Sodium (mg) 92, Carbohydrate (g) 25, Fiber (g) 4, Protein (g) 15, Fruit (d.e.) 1, Vegetables (d.e.) 1.5, Very Lean Meat (d.e.) 2, Fat (d.e.) 2
Information
Category

Main Dishes, Pork

Cuisine

North American