Fast & Easy Dinner: Seared Scallops With Leek Ribbons
Fast & Easy Dinner: Seared Scallops With Leek Ribbons Who says you can't have an elegant, romantic, sophisticated meal in the middle of the week? This recipe for seared scallops with leek ribbons not only sounds pretty, but it tastes sublime too!
The pure richness of the scallops combines perfectly with the mild onion flavor of the leeks. Although the name implies a dish that only an experienced cook could make, the technique is surprisingly uncomplicated. To learn it,
.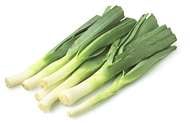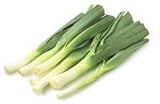 Ingredients
1 1/2 pounds sea scallops
1 teaspoon kosher salt
1/2 teaspoon black pepper
2 tablespoons olive oil
4 medium leeks (white and light green parts), quartered lengthwise and rinsed
1 lemon, cut into wedges (optional)
2 tablespoons pesto (optional)
Directions
Rinse the scallops and pat them dry with paper towels. Season them with 1/2 teaspoon of the salt and 1/4 teaspoon of the pepper.
Heat 1 tablespoon of the oil in a large cast-iron skillet over medium-high heat. Add the scallops and cook until golden brown and cooked through, 2 to 3 minutes per side. Transfer to a plate.
Wipe out skillet and return to medium-low heat. Add the remaining oil and the leeks and toss.
Cover and cook, turning occasionally, until softened, about 10 minutes. Season with the remaining salt and pepper.
Return the scallops to skillet to rewarm. If using, squeeze on the lemon juice or spoon the pesto over the top. Transfer to individual plates.
Serves 4.
NUTRITION PER SERVING: CALORIES 251(30% from fat); FAT 9g (sat 1g); CHOLESTEROL 55mg; CARBOHYDRATE 14g; SODIUM 757mg; PROTEIN 30g; FIBER 1g; SUGAR 3g
Information
Category

Main Dishes, Shellfish