Fast & Easy Dinner: Shrimp and Cheddar Grits
Fast & Easy Dinner: Shrimp and Cheddar Grits Kick-start your weekend with this scrumptious, Southern-inspired dish. In it, shrimp and scallions are served on a bed of cheesy grits.
The resulting meal is comforting, yet healthy. Instead of cooking the shrimp on the stove or in a deep fryer, it's broiled in the oven.
Serve with cornbread and collard greens for a completely delicious dinner. Want to look at the recipe?
.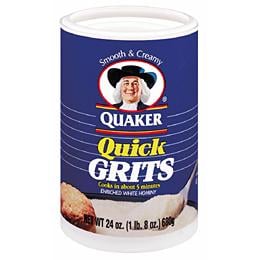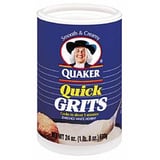 Ingredients
1 14-ounce can reduced-sodium chicken broth
1 1/2 cups water
3/4 cup quick grits* (not instant)
1/2 teaspoon freshly ground pepper, divided
3/4 cup extra-sharp or sharp Cheddar cheese
1 pound (or 16-20) peeled and deveined raw shrimp
1 bunch scallions, trimmed and cut into 1-inch pieces
1 tablespoon extra-virgin olive oil
1/4 teaspoon garlic powder
1/8 teaspoon salt
Directions
Position rack in upper third of oven; preheat broiler.
Bring broth and water to a boil in a large saucepan over medium-high heat. Whisk in grits and 1/4 teaspoon pepper. Reduce heat to medium-low, cover, and cook, stirring occasionally, until thickened, 5 to 7 minutes. Remove from heat and stir in cheese. Cover to keep warm.
Meanwhile, toss shrimp, scallions, oil, garlic powder, the remaining 1/4 teaspoon pepper and salt in a medium bowl.
Transfer to a rimmed baking sheet. Broil, stirring once, until the shrimp are pink and just cooked through, 5 to 6 minutes.
Serve the grits topped with the broiled shrimp and scallions.
Serves 4.
NUTRITION INFORMATION: Per serving: 356 calories; 13 g fat (5 g sat, 3 g mono); 197 mg cholesterol; 27 g carbo hydrate; 32 g protein; 1 g fiber; 428 mg sodium; 275 mg potassium, Selenium (61% daily value), Calcium (25% dv), Iron (20% dv), Vitamin A (15% dv). 2 Carbohydrate Servings
*Look for quick grits near oatmeal and other hot cereals or near cornmeal in the baking aisle.
Information
Category

Main Dishes, Shellfish

Cuisine

North American