Fast & Easy Dinner: Shrimp With Cherry Tomatoes and Feta
Fast & Easy Dinner: Shrimp With Cherry Tomatoes and Feta During the Summer, I can't get enough of delicious, perfectly ripe tomatoes. I encourage you to take advantage of the burst-in-your-mouth cherry variety by making this dish.
Succulent shrimp is sautéed with garlic, oregano, and white wine. The tomatoes become juicy and warm. Salty feta cheese finishes off this scrumptious Summer meal. Serve with a green salad and a glass of chilled Sauvignon Blanc. Get the recipe when you
.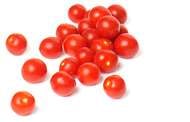 Shrimp With Cherry Tomatoes and Feta
From The Nest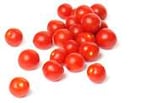 Ingredients
2 teaspoons extra-virgin olive oil
3/4 pound medium shrimp, shelled
1 clove garlic, minced
1 (12-ounce) bag cherry tomatoes on the vine
1 tablespoon chopped fresh oregano, or 1 teaspoon dried
1/4 cup dry white wine, or fat-free, reduced-sodium chicken broth
3 tablespoons chopped flat-leaf parsley
2 tablespoons crumbled reduced-fat feta cheese
1/2 teaspoon salt
Freshly ground black pepper
Directions
Heat the oil in a medium skillet over medium-high heat.
Add the shrimp and stir with a wooden spoon until they just lose their raw color, 1 to 2 minutes.
Add the garlic, tomatoes, oregano, and wine or broth. Cook, using a spoon to roll the tomatoes around, until most of the liquid has boiled off, 1 to 2 minutes.
Add the parsley and cheese, and cook 1 minute longer, stirring occasionally. Season with salt and pepper, and serve immediately.
Serves 4.
Information
Category

Main Dishes, Shellfish

Cuisine

North American