Fast & Easy Dinner: Shrimp Scampi Pizzas
Fast & Easy Dinner: Shrimp Scampi Pizzas Ever since I made manchego shrimp pizza, I simply can't get enough of shellfish-topped pies. However, during the work week, dealing with pizza dough can be a bit daunting. That's why I love this recipe for shrimp scampi French bread pizza.
Shrimp is tossed with a parsley-garlic mixture before being placed on crisp baguette halves. Ricotta and Parmesan cheese finish off the dish, which is simple yet scrumptious. For this tasty recipe,
.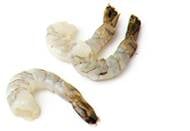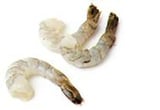 Ingredients
3 tablespoons extra-virgin olive oil
12 cloves garlic, 8 smashed and peeled and 4 finely chopped
1 bunch flat-leaf parsley, trimmed
One 15-ounce container ricotta cheese
1/2 cup grated parmesan cheese, plus more for sprinkling
2 pounds shrimp—peeled, deveined and chopped
Salt and pepper
1 baguette, split lengthwise and quartered crosswise
Directions
In a large skillet, heat the olive oil over medium-low heat.
Cook the smashed garlic until golden, about 5 minutes. Using a slotted spoon, transfer the garlic to a food processor; reserve the olive oil.
Add the parsley to the garlic in the food processor and pulse to finely chop; set aside 1/4 cup. Add the ricotta and parmesan to the food processor; pulse to combine.
Preheat the oven to 500°.
In the same skillet, heat the reserved olive oil over medium-high heat. Add the chopped garlic and cook, stirring, for 1 minute. Add the shrimp, season with salt and pepper and cook, stirring, until opaque, about 5 minutes. Stir in the reserved 1/4 cup parsley-garlic mixture.
Spread the cheese mixture on the cut side of each piece of bread and arrange on a parchment-paper-lined baking sheet. Spoon the shrimp mixture on top and sprinkle with more parmesan. Bake until the cheese is melted, 7 to 10 minutes.
Serves 4-6.
Information
Category

Main Dishes, Pizza

Cuisine

Italian