Fast & Easy Dinner: Skewered Swordfish Rolls
Fast & Easy Dinner: Skewered Swordfish Rolls This summer, I'm trying to experiment with different types of fish. Although I cook with plenty of seafood, usually I make salmon or shellfish. When I found this recipe for skewered swordfish, I couldn't help but get excited. The fish is rubbed with a lemon garlic herb mixture before being pounded thin. Next a thick orange tapenade coats the fish. It sounds delicious and exciting with a wonderfully pretty presentation.
To get the recipe and expand your fish horizons with me,
.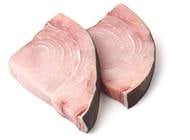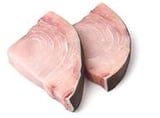 Ingredients
Grated peel of 2 lemons, plus lemon wedges for serving
2 cloves garlic, smashed and peeled
1 cup flat-leaf parsley leaves
3/4 cup green olives, chopped
1/2 cup basil leaves, chopped or torn
3 tablespoons capers
Grated peel of 1 orange, plus orange wedges for serving
Four 1/2-inch-thick swordfish steaks (about 2 1/2 pounds total)
1/4 cup extra-virgin olive oil
Salt and pepper
Large slices of crusty bread
Directions
Preheat a grill or grill pan to medium-high.
Using a food processor, pulse the lemon peel, garlic and parsley until finely chopped.
In a bowl, combine the olives, basil, capers and orange peel.
Remove the skin and dark flesh from the swordfish steaks and discard.
Drizzle the fish with the olive oil, season with salt and pepper and rub with the lemon mixture. Place the fish between 2 layers of wax paper and gently pound out to 1/8 inch thick.
Cut the fish into twelve 3-inch-wide strips no more than 5 inches long. Spread the orange-olive mixture on the strips. Roll up the fish strips and thread 3 rolls at a time onto skewers.
Grill the swordfish skewers, turning frequently, until firm to the touch and opaque, about 7 minutes.
Grill the bread and serve alongside the skewers, with lemon and orange wedges for squirting on the fish.
Serves 4.
Information
Category

Main Dishes, Fish

Cuisine

North American