 Typically used in fajitas, skirt steak is an affordable cut of meat that makes a delicious dinner. After a quick cook in a hot pan, the long, flat piece of beef is flavorful, tender, and juicy.
This recipe pairs the steak with crisp, garlicky oven-baked potatoes and a lightly dressed, peppery watercress salad. When served with a glass of red wine, it's the perfect midweek pick-me-up. Get the recipe when you
.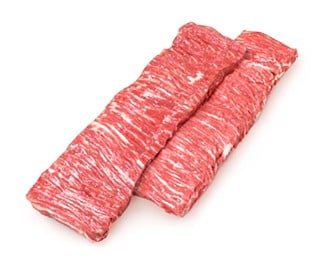 Ingredients
2 garlic cloves
Coarse salt and ground pepper
1/2 teaspoon dried thyme
3 tablespoons olive oil
1 1/2 pounds red new potatoes, sliced 1/4 inch thick
1 1/2 pounds skirt steak, cut into 4 equal pieces
2 tablespoons red-wine vinegar
1 teaspoon Dijon mustard
2 bunches watercress (about 12 ounces total), thick ends removed
Directions
Preheat oven to 475 degrees.
Finely chop garlic, and sprinkle with salt. Using a chef's knife, press flat side of blade back and forth across garlic to make a paste. Transfer to a small bowl; stir in thyme and 1 tablespoon oil.
On a large rimmed baking sheet, toss potatoes with garlic mixture; bake until browned on underside, 20 to 25 minutes.
Meanwhile, heat a large skillet or grill pan over high. Season steaks with salt and pepper, and cook* (in two batches if necessary) until medium-rare, 3 to 6 minutes per side (depending on thickness of steak). Transfer to a plate to rest.
While steaks rest, make salad: In a large bowl, whisk together vinegar, Dijon, and remaining oil; season with salt and pepper. Add watercress, and toss to combine. Serve steaks with potatoes and salad.
Serves 4.
*Because they are well marbled, skirt steaks can go in a hot skillet without added fat. Cook them to medium-rare so they'll be tender, not tough.
Information
Category

Main Dishes, Beef

Cuisine

North American