Fast & Easy Dinner: Skirt Steak With Pita and Yogurt Sauce
Fast & Easy Dinner: Skirt Steak With Pita and Yogurt Sauce To be more savvy, professional chefs like Traci Des Jardins are encouraging home cooks to use lesser cuts of meat. While some are ideal for slow-cooking techniques like braising, others are great for quick-searing. Skirt steak, a cheaper cut from the cow's diaphragm muscle, is ideal for grilling.
In this recipe, spice-rubbed meat is served with charred pita bread, a tangy yogurt sauce, and crisp lettuce leaves. Throw in some store-bought hummus and a tabouleh salad and you've got a weeknight meal that's perfect for entertaining. Check out the straightforward recipe when you
.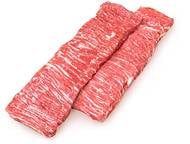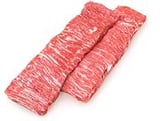 Ingredients
1 1/4 pounds skirt steak, cut into 6-inch lengths
3 tablespoons plus 1 1/2 teaspoons your favorite spice rub
3/4 cup plain whole-milk yogurt
2 scallions, thinly sliced
1 garlic clove, smashed
1 tablespoon chopped pickled jalapeños
1 tablespoon extra-virgin olive oil, plus more for brushing
Salt and freshly ground pepper
4 large pita breads, for serving
Romaine lettuce leaves, for serving
Directions
Light a grill. Rub the steaks all over with 3 tablespoons of the spice rub and let stand for 5 minutes.
Meanwhile, in a medium bowl, combine the yogurt, scallions, garlic, jalapeños and the remaining 1 1/2 teaspoons of the spice rub. Stir in the olive oil and season with salt and pepper.
Brush the steaks lightly with olive oil and grill over high heat, turning occasionally, for 7 to 8 minutes for medium-rare meat.
Brush the pitas with olive oil and grill until lightly toasted, about 30 seconds.
Transfer the steaks to a cutting board and let rest for 5 minutes. Thinly slice the steaks across the grain. Transfer the steaks to a platter and serve with the toasted pita, yogurt sauce and lettuce leaves.
Serves 4.
Information
Category

Main Dishes, Beef

Cuisine

Mediterranean/Middle Eastern