Fast & Easy Dinner: Spiced Pear and Goat Cheese Salad
Fast & Easy Dinner: Spiced Pear and Goat Cheese Salad Just because it's cooler doesn't mean you have to stop having hearty salads for dinner. Fall's fabulous flavors, like pears, dark greens, and nuts, are excellent ingredients in dinner salads.
In this recipe, the cinnamon-spiced pears are roasted in a bath of orange juice. Parsley leaves add freshness and toasted pine nuts provide a delicious crunch. Creamy goat cheese and salty Parmesan cheese finish off the salad. This dish is also a perfect starter for a fancy dinner, so get the recipe and
.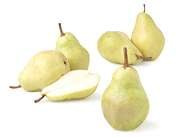 Spiced Pear and Goat Cheese Salad
From The Nest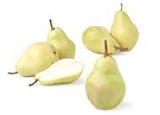 Ingredients
For the spiced pears:
4-5 firm but ripe pears, peeled, cored, and quartered
splash of olive oil
salt and freshly ground black pepper
1 teaspoon ground cinnamon
1/2 teaspoon coarsely ground coriander seeds
1/2 teaspoon apple pie spice
juice of 1 orange
2 tablespoons red wine vinegar
For the goat cheese salad:
3 tablespoons extra virgin olive oil
juice of 1 lemon
1 bunch arugula and/or watercress leaves
2 ounces Parmesan, shaved
11 ounces goat cheese, crumbled
30 flat parsley leaves, coarsely chopped
2/3 cup pine nuts, toasted until pale golden brown
Directions
Preheat a grill pan or skillet and preheat the oven to 400°F.
Mix the pears in a bowl with the oil, salt, pepper, and dried spices.
When the grill is hot, grill the pears for 1 1/2 minutes on each side until they are beginning to caramelize.
Remove from the pan and place in a small roasting pan. Pour the orange juice and red wine vinegar over them, and roast in the oven for 8 minutes. Transfer the pears to a large bowl and let cool.
Mix the extra virgin olive oil and lemon juice into the pear juices in the roasting pan to make a dressing. Season to taste (remember the cheese is salty).
Mix the leaves with the pears. Add the slivers of Parmesan, along with some of the crumbled goat cheese and the parsley. Pour in the dressing and toss gently to mix.
Serve on a large plate and scatter the toasted pine nuts, remaining goat cheese, and Parmesan over the top.
Serves 6.
Information
Category

Salads, Main Dishes