Fast & Easy Dinner: Steak Salad-Stuffed Pockets
Fast & Easy Dinner: Steak Salad-Stuffed Pockets This recipe gives the classic steak sandwich a healthy makeover. Broiled steak is tossed with a crunchy cucumber-romaine salad before being stuffed into a whole wheat pita. A simple dressing made with mustard, lemon juice, and olive oil adds a fresh moistness to the sandwich. For a vegetarian variation, substitute mushroom caps for the steak. A great on-the-go meal, these pitas are perfect for those nights when there isn't time to sit at the table. To learn how to make it,
.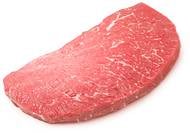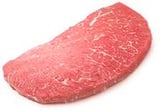 Ingredients
1/4 cup lemon juice
3 tablespoons extra-virgin olive oil
2 teaspoons Dijon mustard
1/4 teaspoon salt, or to taste
Freshly ground pepper to taste
1 pound top round steak, 1 1/2 inches thick, trimmed
4 cups romaine lettuce, chopped
1 medium cucumber, diced
1 large tomato, diced
8 4-inch whole-wheat pitas or four 8-inch pitas, split open
Directions
Position rack in upper third of oven; preheat broiler.
Whisk lemon juice, oil, mustard, salt and pepper in a large bowl. Place steak in a shallow dish and pour half the dressing over it. Let marinate at room temperature, turning once, for 10 minutes.
Meanwhile, prepare the salad by adding lettuce, cucumber and tomato to the remaining dressing in the bowl; toss to coat.
Transfer the meat to a broiling pan. Broil for 5 minutes on each side for medium-rare, or until it reaches desired doneness. Warm pitas on the bottom rack of the oven while the steak is broiling.
Transfer to a cutting board, let rest for 3 minutes, then slice thinly against the grain.
Mix the meat with the salad and fill each pita. Serve immediately.
Serves 4.
NUTRITION INFORMATION: Per serving: 410 calories; 15 g fat (3 g sat, 8 g mono); 65 mg cholesterol; 37 g carbohydrate; 33 g protein; 6 g fiber; 529 mg sodium. Vitamin A (70% daily value), Selenium (66% dv), Vitamin C (45% dv), Folate (29% dv), Iron (25% dv), Magnesium (20% dv).
Information
Category

Main Dishes, Sandwiches

Cuisine

North American