 Get the weekend started with this exotic, interesting meal. Thin slices of pork are cooked with coconut milk, curry, and lime juice. Green beans provide snap and red peppers add a nice crunch. Served over a bed of hot orzo, it's filling and delicious.
This dish would be wonderful for a last minute dinner party. To look at the simple recipe,
.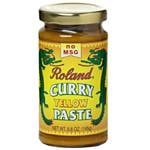 Ingredients
1-1/3 cups dried orzo (about 8 ounces)
12 ounces pork tenderloin or lean boneless pork
2 tablespoons cooking oil
8 ounces green beans, bias-sliced into 1 1/2-inch pieces (2 cups)*
1 red sweet pepper, cut into thin bite-size strips
2 green onions, bias-sliced into 1/4-inch pieces
1 14-ounce can unsweetened lite coconut milk
4 teaspoons bottled curry paste
2 teaspoons sugar
2 tablespoons lime juice
Directions
Cook orzo according to package directions. Drain and keep warm. Thinly slice pork into bite-size pieces.
Pour 1 tablespoon of the oil into a large nonstick skillet. Preheat over medium-high heat. Add pork; cook and stir about 4 minutes or until no pink remains. Remove from skillet.
Add the remaining 1 tablespoon oil to skillet. Add green beans; cook and stir for 3 minutes.
Add sweet pepper and green onions; cook and stir about 2 minutes more or until vegetables are crisp-tender.
Add coconut milk, curry paste, and sugar. Reduce heat to low, stirring until combined. Stir in cooked pork and lime juice; heat through. Serve over hot orzo.
Serves 4.
*A 9-ounce package of frozen cut green beans, thawed, can be substituted for the fresh beans. Add them to the skillet along with the sweet pepper and onions; cook as directed.
Information
Category

Main Dishes, Pork

Cuisine

Other Asian