Fast & Easy Dinner: Tomato Soup With Parmesan Crisps
Fast & Easy Dinner: Tomato Soup With Parmesan Crisps Treat yourself to a comforting meal in the form of this tomato soup with alphabet pasta. It's a nostalgic throwback to the childhood favorite. The crunchy Parmesan fricos provide a sophisticated touch that your family will love.
If you can't find alphabet pasta, simply use another small quick-cooking shape. Serve with a green salad on the side and homemade croutons for dipping.
Sound scrumptious? Check out the recipe and
.
Tomato Soup With Parmesan Crisps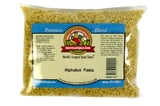 Ingredients
2 cups shredded parmesan cheese (4 ounces)
1 tablespoon extra-virgin olive oil
1/2 onion, chopped
1 carrot, chopped
One 32-ounce container (4 cups) vegetable broth
One 28-ounce can crushed tomatoes
4 tablespoons butter, at room temperature
1/2 pound alphabet pasta
Salt and pepper
Directions
Position a rack in the middle of the oven and preheat to 350°. Line 2 baking sheets with parchment paper or a silicone baking liner.
Sprinkle four 1/4-cup mounds of Parmesan about 2 inches apart onto each prepared baking sheet; slightly flatten with a spoon. Bake until golden-brown, 6 to 8 minutes. Let cool for 30 seconds.
Using a thin metal spatula, drape the crisps over a rolling pin until hardened into shape, about 3 minutes.
In a soup pot, heat the olive oil over medium heat. Add the onion and carrot and cook, stirring, until softened, 5 to 7 minutes. Add the vegetable broth and tomatoes, cover, and bring to a boil.
Using a blender, puree the soup with the butter.
In the soup pot, stir the pasta into the soup, and cook until al dente, Stir in 1 to 2 cups water, if desired. Season with salt and pepper.
Ladle the soup into 4 mugs and top each with 2 Parmesan crisps. The Parmesan crisps can be kept in an airtight container for up to 2 days.
Serves 4.
Information
Category

Main Dishes, Soup

Cuisine

North American