Fast & Easy Dinner: Triple Tomato Soup
Fast & Easy Dinner: Triple Tomato Soup If you're desperately missing tomatoes but are mindful of seasonality, this soup is the answer to your dilemma. The savory, umami flavor of tomato is here in full force, but this slurper doesn't require any fresh tomato produce. By adding toast points and shaved asiago cheese, you can turn this into a meal, and if you just can't live without meat, top it with crispy, fried pieces of prosciutto. You'll be pleasantly surprised by how satisfied you are when you
.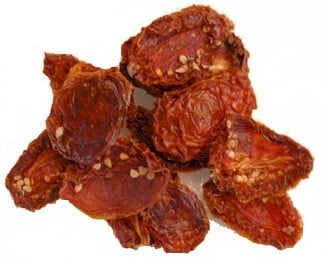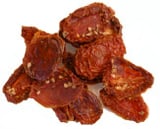 Ingredients
1 large onion, sliced
1 Tbsp. butter or olive oil
1 28-oz. can whole tomatoes
3/4 cup dried tomatoes (not oil packed)
1/2 of 6-ounce can no-salt-added tomato paste
1 14-oz. can reduced-sodium chicken broth or vegetable broth
1/2 cup sliced celery (1 stalk)
2 Tbsp. snipped fresh parsley or cilantro
2 to 3 tsp. lime juice or lemon juice
Sour cream
Fresh Italian (flat-leaf) parsley
Directions
In 4-quart Dutch oven cook onion in hot butter, covered, over medium-low heat for 10 minutes or until tender.
Add undrained whole tomatoes, 1/2 cup of the dried tomatoes, tomato paste, broth, celery, and parsley. Bring to boiling; reduce heat. Simmer, covered, for 20 minutes; cool.
Meanwhile, in microwave-safe bowl cover remaining dried tomatoes with water. Microcook on high (100% power) for 1 minute. Cool. Drain. Snip into pieces; set aside.
In blender, blend half of the tomato mixture at a time until smooth.
Return to saucepan; add lime juice, heat through.
Top with sour cream, snipped dried tomatoes, and parsley.
Makes 2 meal-sized servings.
Nutrional Information: Calories 128, Total Fat (g) 4, Saturated Fat (g) 2, Monounsaturated Fat (g) 1, Polyunsaturated Fat (g) 0, Cholesterol (mg) 8, Sodium (mg) 786, Carbohydrate (g) 22, Total Sugar (g) 14, Fiber (g) 5, Protein (g) 6, Vitamin C (DV%) 56, Calcium (DV%) 10, Iron (DV%) 21.
Information
Category

Other, Soups/Stews

Cuisine

North American