Fast and Easy Dinner: Turkey Bacon Salad If you love club sandwiches, get excited for this recipe! It takes elements — salty bacon, crisp lettuce, and juicy turkey — from the classic sandwich and reconstructs them as a crunchy, filling salad.
Sugar snap peas are an unconventional yet balanced addition. For a lighter variation, serve the dressing on the side. Kick off your weekend by making this delicious dinner salad; get the recipe and
.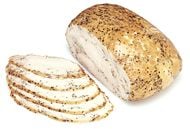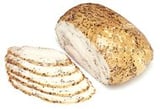 Ingredients
5 slices low-sodium bacon
2 cups sugar snap peas
1/2 cup light mayonnaise
1 Tbsp. Dijon-style mustard
1 Tbsp. cider vinegar
1 Tbsp. snipped fresh dill
1 small head romaine, coarsely chopped or torn
8 oz. smoked turkey breast, cut into bite-size strips
Directions
Line a 9-inch microwave-safe pie plate with paper toweling. Arrange bacon in layer on toweling. Cover with additional toweling. Cook on 100 percent power for 4 minutes or until crisp. Remove plate from microwave. Set bacon aside to cool.
Meanwhile, cook peas, covered, in boiling salted water for 2 minutes or until crisp-tender; drain.
Crumble one bacon slice; set aside. Break remaining into pieces.
In bowl combine mayonnaise, mustard, vinegar, and dill. Stir in crumbled bacon. Arrange romaine on each plate. Add peas, turkey strips, and bacon pieces. Top with dressing.
Serves 4.
Nutrition Facts: Calories 392, Total Fat (g) 32, Saturated Fat (g) 9, Monounsaturated Fat (g) 12, Polyunsaturated Fat (g) 8, Cholesterol (mg) 68, Sodium (mg) 1363, Carbohydrate (g) 9, Total Sugar (g) 5, Fiber (g) 2, Protein (g) 17, Vitamin C (DV%) 54, Calcium (DV%) 4, Iron (DV%) 11
Information
Category

Salads, Main Dishes

Cuisine

North American