 For some strange reason, I don't like burgers, but I love sliders. A slider is a miniature burger so it is odd that I dislike one while enjoying the other. Yet, there is something so deliciously appealing about a bite-sized burger — especially when topped with melted cheese and slathered with spicy mustard like this version. A quick potato salad — made with oil and vinegar instead of mayonnaise — completes this satisfying meal. For the recipes,
.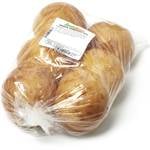 Ingredients
2 pounds red-skinned potatoes, unpeeled
Salt
20 ounces ground turkey
1/3 cup plain bread crumbs
1 large egg
1 1/2 tablespoons chopped fresh sage
1/4 cup plus 1 tablespoon extra-virgin olive oil
Four 1-ounce slices of cheddar cheese, quartered
1/4 cup white wine vinegar
3 tablespoons snipped chives (optional)
Dijon mustard
8 small dinner rolls or potato rolls, split
Directions
Cut the potatoes into 1/2-inch cubes, place in a large pot and cover with an inch of water. Salt the water and bring to a boil over high heat. Continue boiling until the potatoes are tender, about 10 minutes.
In a medium mixing bowl, combine the ground turkey with the bread crumbs, egg, sage and 1/2 teaspoon of salt.
Divide the mixture into eighths and form into 1/2-inch-thick patties.
Heat the 1 tablespoon of olive oil in a large grill pan over medium heat.
When the oil is rippling hot, add the patties and cook, flipping once, until cooked through, about 4 minutes per side. Place 2 small cheese squares on each burger.
When the potatoes are cooked, drain them and immediately toss with the remaining 1/4 cup of olive oil, the vinegar, 1/2 teaspoon of salt and the chives.
Serve each burger on a roll spread with mustard. Serve 2 burgers on each plate with the potato salad.
Serves 4.
Information
Category

Other, Main Dishes

Cuisine

North American