Fast & Easy Dinner: Vietnamese-Style Beef and Noodle Broth
Fast & Easy Dinner: Vietnamese-Style Beef and Noodle Broth Ward off the early Fall chill with a steaming bowl of this scrumptious soup. It's perfect for a Friday night — all you have to do is drop the ingredients in a pot. Crunchy bean sprouts and fresh, fragrant basil finish off the soup. To add more heat, serve with a spicy Asian sauce. Learn how to make this dish when you
.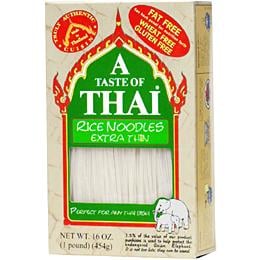 Vietnamese-Style Beef and Noodle Broth
From Eating Well
Ingredients
2 teaspoons canola oil
1 pound beef flank steak, very thinly sliced against the grain
4 cups chopped bok choy (1 small head, about 1 pound)
4 cups reduced-sodium chicken broth
1 cup water
4 ounces wide rice noodles
2 teaspoons reduced-sodium soy sauce
1 1/2 cups mung bean sprouts
4 tablespoons chopped fresh basil, or to taste
Directions
Heat oil in a Dutch oven or soup pot over high heat. Add beef and cook, stirring often, until just cooked, about 2 minutes. Transfer to a plate using tongs, leaving the juices in the pot.
Add bok choy to the pot and cook, stirring, until wilted, about 2 minutes. Add broth and water, cover and bring to a boil.
Add noodles and soy sauce; simmer until the noodles are soft, about 4 minutes. Return the beef to the pot and cook until heated through, 1 to 2 minutes more.
Ladle into bowls and sprinkle with bean sprouts and basil. Serve hot.
Serves 6.
NUTRITION INFORMATION: Per serving: 235 calories; 8 g fat (3 g sat, 3 g mono); 33 mg cholesterol; 19 g carbohydrate; 22 g protein; 1 g fiber; 209 mg sodium.
Nutrition bonus: Vitamin A (40% daily value), Zinc (27% dv), Vitamin C (25% dv).
Information
Category

Main Dishes, Soup

Cuisine

Other Asian