Fast & Easy Dinner: Warm Chorizo, Potato, and Mint Salad
Fast & Easy Dinner: Warm Chorizo, Potato, and Mint Salad Give the classic combination of meat and potatoes new meaning with this Spanish-inspired dinner recipe. It combines boiled fingerling potatoes with spicy chorizo and a tangy, fresh mint sauce.
Serve with a glass of Spanish wine and a chunk of crusty bread for mopping the delicious dressing. To have this meal on the table in under 20 minutes, you'll need the recipe, so
.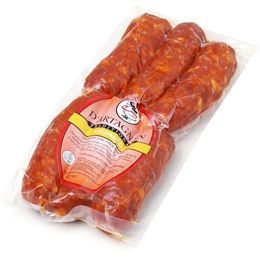 Warm Chorizo, Potato, and Mint Salad
From The Nest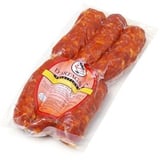 Ingredients
1 1/2 tablespoons sherry vinegar
2 teaspoons lemon juice
1 garlic clove, crushed
1 teaspoon Dijon mustard
large pinch of sugar
1/4 cup extra virgin olive oil
1 large handful mint, finely shredded
1 pound 2 ounces waxy potatoes, such as fingerling, washed but not peeled, sliced 3/4 inch thick
1 chorizo sausage, cut into 1/2 –inch cubes
Directions
First, make the mint dressing: Mix the vinegar, lemon juice, garlic, mustard, and sugar together in a small bowl, then whisk in the oil. Stir in the mint and set aside for the flavors to infuse.
Cook the potato slices in a saucepan of salted boiling water for 12 minutes, or until tender. Drain well.
While the potato is cooking, put a lightly oiled frying pan over medium-high heat and cook the chorizo for 10 minutes, or until crispy, stirring now and then. Remove and drain on crumpled paper towels.
Put the chorizo in a serving bowl with the warm potatoes and the dressing. Toss together gently, then season to taste and serve.
Serves 4.
Information
Category

Main Dishes, Potatoes

Cuisine

Spanish/Portuguese