Fast & Easy Dinner: White Bean and Chorizo Salad
Fast & Easy Dinner: White Bean and Chorizo Salad Take a trip to Spain in your kitchen tonight with this crunchy, filling, and flavorful salad.
Canned white beans are combined with spicy chorizo before being tossed with a sherry vinaigrette. Sliced radishes add a refreshing crispness and black olives finish off this interesting dish with a salty tang.
The hard boiled eggs make the salad wonderfully well-balanced. Serve with crusty bread (for mopping the tasty dressing) and a glass of Spanish wine. For the recipe please
.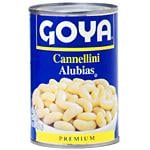 Ingredients
2 large eggs
One 15-ounce can small white beans, drained
1 ready-to-eat chorizo link (3 ounces), finely diced
1/2 small onion, finely chopped
1/4 cup finely chopped red bell pepper
1/4 cup finely chopped flat-leaf parsley
1/4 teaspoon dried oregano
1/8 teaspoon cumin seeds
1/4 cup extra-virgin olive oil
2 tablespoons sherry vinegar
Salt and freshly ground pepper
4 Boston lettuce leaves
1/4 cup pitted Calamata olives
1 radish, thinly sliced
Directions
Put the eggs in a small saucepan. Cover the eggs with water and bring to a boil. Remove from the heat, cover and let stand for 12 minutes. Drain and run under cold water, gently shaking the pan. Peel the eggs and pat dry.
Meanwhile, in a medium bowl, toss the beans with the chorizo, onion, bell pepper, parsley, oregano and cumin seeds.
Add the olive oil and vinegar, season with salt and pepper and toss well. Let stand for 10 minutes.
Arrange the lettuce leaves in bowls and mound the bean salad on top. Scatter the olives and radish slices all around. Quarter the eggs, arrange them around the salads and serve.
Serves 4.
Information
Category

Salads, Main Dishes

Cuisine

Spanish/Portuguese